Wow, did I just say that?

This article is a B. This article is a B, meaning it is missing three or fewer sections, or some images need to be added. Please do what you can to help!
Zing
is the Pixie of Bugs. She can shape-shift into many different characters and creatures.
Personality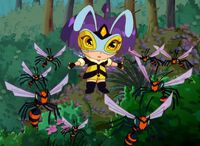 Very hyper, Zing is sometimes seen with Glim, and seemingly appears to be Glim's "Nanny" or Guardian. Sometimes she can display any form she wants.
It was revealed in "The Pixies' Charge" that Zing has the ability to call bugs to help her and others. Zing calls the bugs in the episode "Spaceship".
Appearance
Winx Club
Zing wears a cream fluffy scarf around her neck. She wears a bee like coat with cream fluff on the end of the sleeves, yellow shorts and black boots. She wears a pair of yellow goggles with a pair of antennas connected to it. She has purple hair and bright purple wings.
Zing also tends to cosplay as different characters from other movies and series. This includes:
William Wallace from Braveheart
Dr. Emmett Brown from Back to the Future
Captain Jack Sparrow from Pirates of the Caribbean
Spiderman from Spiderman
Scorpion from Mortal Kombat
Dr. Octopus from Spiderman
Blain Cooper from Predator
Scrat from Ice Age
Wicked Witch of the West from Wizard of Oz
Jubei-chan from Ninja Girl Jubei-chan
Pop Pixie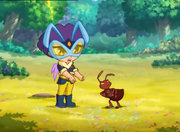 Zing's Pop Pixie Civilian Outfit remains unchanged. However, Zing's gender seems to have been changed into male. Making her the third female to have gone under a gender change. The other three being Livy, Jolly and Digit for unknown reasons.
Series
Seasons
Specials
Movies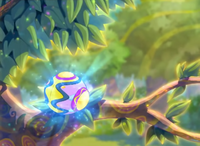 Coming soon
Trivia
Ad blocker interference detected!
Wikia is a free-to-use site that makes money from advertising. We have a modified experience for viewers using ad blockers

Wikia is not accessible if you've made further modifications. Remove the custom ad blocker rule(s) and the page will load as expected.