Zenith
Talk

2
1,155pages on
this wiki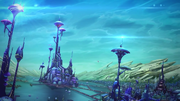 Zenith
is
Tecna
's home world. It is the Realm of Technology in which it is filled with an extremely heavy use of technology, electronics, machines, and
gadgets. The people and inhabitants enjoy a high and peaceful standard of living. They also use the metric system. Zenith is a very cold and snowy place because the climate helps the techno droids and the technology to function well. 
There are oceans like every other inhabited planets and Lithia is the Selkie who guards Zenith's ocean gate.
Society
Royalty
According to the Winx Club comics, Tecna is the Princess of Zenith and her father is the King. It is unknown if she is the Princess of Zenith, or even a princess in the
 animated series at all. The King of Zenith appears in episode 18, attending the meeting in Domino, his name is
Cryos
.
Locations
Data Bridge Castle
It is a castle in Zenith's Ocean, where the Gem of Empathy was located in. There is also a big throne there, which is an evidence that there could be a ruler under the ocean of Zenith like of the oceans of Andros.
The Palace
It is where King Cryos stays. There are also giant robots and techno droids in there.
The Mall
It is a mall where the Shop-a-tron is located. There are nothing to be seen there but the Shop-a-tron. 
Flora
The plants at the oceans of Zenith are dark green circles.
Seasons
In Season 5, The Winx travel to Zenith in search of the Gem of Empathy. Tecna bonds with Lithia, the Gatekeeper of Zenith's Oceans. The Winx later go to Zenith to convince King Cryos to join the council and not have his kingdom defend itself.
Trivia
The word "Zenith" is generally used to describe a point supposed to be directly above a particular location. In astronomy, it denotes the highest point a celestial body reaches in the sky (for example the Sun reaches its zenith at noon).
Zenith is known as "Titania" in the comics. The planet Neptune has a moon named Titania.
It was learned from Tecna that Zenith's people don't show their emotions. Ironically, the Gem of Empathy is located in their planet.
Zenith appeared physically for the first time in The Gem of Empathy, in which the Winx acquired the Gem of Empathy in their quest for the Sirenix evolved transformation and tremendous magical power.
In the 4Kids dub of the series, it is called the Third Binary Sector.
The Zenith king appears in Winx Club Season 5 The Devourer.
In the animated series, Zenith is very different than from what it is depicted in the comics. 
In the series, Zenith is colored almost in shades of green, shades of purple and black.