You and Me
is a song featured in "
Winx Club: Join the Club
".
Lyrics
English
You've got my heart
I'll never lose
Because now I'm close
Closer to you

My strength, my power
Comes from you
Now I understand the truth
That you gotta believe
You gotta believe

You and me
Always have one single destiny
You and me
We're meant to be

Sitting on the moon
Kissed by the sun
It's all possible
'Cause we believe

That you and me
Are meant to be
Videos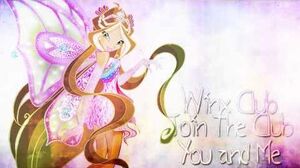 Ad blocker interference detected!
Wikia is a free-to-use site that makes money from advertising. We have a modified experience for viewers using ad blockers

Wikia is not accessible if you've made further modifications. Remove the custom ad blocker rule(s) and the page will load as expected.