Wizgiz
Talk

1
1,134pages on
this wiki
Style is always in style!

This Page needs help, please consult the talk page or the project leader for this article. You can also take a look at the standards for help.
Professor Wizgiz

Voiced by

Oliver Wyman (Rai English)
Pete Zarustica (4Kids)
Dee Bradley Baker (Nickelodeon)

Powers and Abilities

Able to change forms of body

First Appearance
Professor Wizgiz is a somewhat eccentric leprechaun professor who teaches at Alfea. He teaches the art of changing from one form to another, which is also called Metamorphosimbiosis. He is seen as brave and resourceful throughout the seasons, although most of his appearances occur in the first season. His most prominent role was in the episode "Pushing the Envelope" (4Kids) in which he intentionally left all his first year students an envelope with "answers" to his pop quiz. In this episode he shows that he not only cares for his students grades and abilities, but also for their being capable of making good decisions. In a later episode, when Ms. Faragonda gathered all of Alfea's faculty for an important meeting, she referred to Wizgiz for a decision since he was the teacher who had been teaching for the longest time at Alfea. His voice actors for the English Versions are Oliver Wyman for RAI English, Pete Zarustica for the 4Kids version and Dee Bradley Baker in the Nickelodeon Version.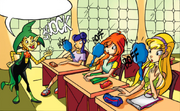 Appearance
Wizgiz has pale-yellowish skin, black eyes, and long elf ears. He also has light brown eyebrows and hair. He wears a big green wizard hat, a yellow long-sleeved striped shirt. He wears a green costume outside. He wears black shoes.
Relationships
Coming soon...
Personality
He can be quite serious and also very funny.
Gallery
Seasons
He teaches Bloom, and the Winx the art of transforming their body appearance into anything they desire, to help in a case of disguising themselves. He fought in the Battle for Alfea, against the Army of Darkness.
He returned and was more a minor role in this season.
He was a minor role again in the third season.
Wizgiz appeared teaching to his students, and when Mandragora and her creatures attacked he helped defend the school by transforming into an elephant with the aid of Mirta whom he stopped from using any dark magic. He also helped rebuild Alfea, with the Winx, their Pixies, Faragonda, Griselda and Palladium.
He only appeared when the Wizards of the Black Circle attacked Alfea, and when they cast a sleeping spell on the residents of Alfea.
He only appeared in the Alfea presentation when the reporter showed them a commercial advertising the school.
Wizgiz appears in "The Gem of Empathy", teaching Alfea students about age-changing spells.
Spells and Powers
Wizgiz as the professor of Metamorphosimbiosi, is able to shapshift his body into form he requires.
Known transformations