Winx Club Forever

This article has been completed. Please do not add any categories, pictures, or edits!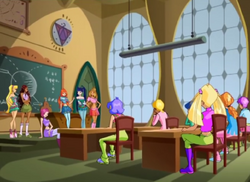 Winxology
is a course introduced in
Season 4
.
Overview
Winxology was taught by the Winx to new and upcoming fairies at Alfea. 
Series
Season 4
In "
The Fairy Hunters
," the
Winx
are invited by
Faragonda
to teach at Alfea as they had become
Enchantix
fairies
and Alfea alumna and they have had a lot of experience in the world of magic compared to other students. During their introduction, in which Tecna comes up with the name "Winxology," the Winx demonstrate various abilities.
Bloom
releases her
Dragon's Flame
into the air,
Flora
manifests flower petals from
Jade
's hairpin,
Stella
releases sun energy,
Musa
plays music,
Tecna
creates a projection, and
Aisha
does aerobics to demonstrate a healthy lifestyle is important to face challenges.
Clarice objects to Aisha's demonstration saying that she does not think training and lifestyle is all that exciting, but Bloom says there is soemeting set up in the courtyard for them. The Winx then take the class outside as Bloom, Aisha, and Flora partake in an obstacle course they call "A Day in a Winx Life" to demonstrate their abilities to their students, but their event is cut short when Clarice, who has voiced her grievances about the Winx's new fame, sets off a magic fireball, injuring Flora and dismantling the course.

Trivia