Welcome to the Winx Club Wiki!
All users need to review the Winx Wikia Standards and New Users before editing any pages.

Helpful Links to Get You Started:
About Winx Club
Main article: Winx Club
Winx Club is a 2004 Italian animated fantasy/adventure series created by Iginio Straffi and produced by Rainbow S.p.A. The series is aimed toward children between the ages of six and fourteen and has spawned an international franchise of toys, books, games, clothing, DVDs, three CGI feature-length films and two spin-off series.
Featured Project
Project Comics
This month we need your help on the comic articles. So many information and articles are missing. Some are not available. Some are not created. Some are having wrong information.
Please do your part and list the corrections on the talk page, or edit the page itself if you can.

Featured Article
Selina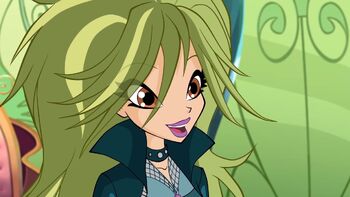 Main article: Selina
Selina is one of the main villains of season 6. She is from Earth and is Bloom's childhood friend. She has the ability to bring the legendary creatures to life by using the Legendarium. She teams up with the Trix, but in fact, she uses them to reach her real goal: freeing Acheron - the creator of the Legendarium, who got stuck in its empty page. At the end of Season 6, she locks the Legendarium for good and returns to be Eldora's apprentice.
Featured Media
Characters
Recent Pages

Recent Blogs
Monthly Poll
For past polls, see here.
What are your thoughts after watching World of Winx season two?
Twitter
FaceBook
Ad blocker interference detected!
Wikia is a free-to-use site that makes money from advertising. We have a modified experience for viewers using ad blockers

Wikia is not accessible if you've made further modifications. Remove the custom ad blocker rule(s) and the page will load as expected.