Winx Club Pets
Talk

0
1,156pages on
this wiki
This article is about the Winx Girls pets.
Pets
Bloom's Pets
Kiko
Kiko is Bloom's first pet. He has blue and white fur. He is smarter than most other rabbits/bunnies. It is unknown if Kiko is a magical pet. Kiko is first seen with Bloom when he spots a Knut battling Stella. Kiko lives with Bloom in Alfea. In the second season, Kiko becomes jealous of Lockette (Bloom's pixie). He begins to hang out with the pets on the Alfea grounds. In the fourth season, Kiko moves back to Earth with the Winx girls while looking for the last fairy on Earth. He develops a crush on Milly, Aisha's bunny.
Ron
Ron is a ginger coloured cat. He first appears in secret of the lost kingdom when the Winx (minus bloom) become guardian faires. when you see him the first time, he hasn't an owner. you can't see him again in the 4th season
Belle
Belle is Bloom's third pet in Season 4. Belle used to be a plush doll but, Flora used her magic to turn Belle and the other pets into magic pets.Belle is a lamb.
Peg
Peg is Bloom's fourth pet in Magical Adventure. King Oritel and Queen Marion give Peg to Bloom as a gift after the ladies of Domino chase Bloom away. At the end of the movie, Peg eats the seedling of Havram and becomes a winged unicorn.
Buddy
Buddy is Bloom's inner dragon, and somewhat of her special kind of "pet". He helps her to make herself like a dragon, and earning her Enchantix (incomplete way).
Flora's Pet(s)
Coco
Coco is Flora's only pet. Coco shares the same love for nature like Flora. Along with Belle, Coco was a plush doll.
Stella's Pet(s)
Ginger
Ginger is like Stella and is her only pet. Ginger only cares for her appearances and getting Kiko's attention, like Milly. Ginger and Milly fight for kiko.
Aisha's Pet(s)
Milly
Milly likes to workout and has a crush on Kiko. She fights for Kiko and is very lovely.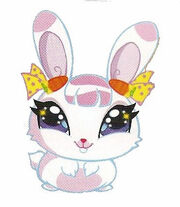 Musa's Pet(s)
Pepe
Pepe is Musa's only pet. Pepe was the name of Icy's pet duck. Pepe was one of the plush doll.
Tecna's Pet(s)
Chicko
Chicko was one the plush dolls before Flora brought them to life. Chicko was also there with the other pets during Roxy's fight with Gantlos, trying to help Roxy gain her wings.
Roxy's Pet(s)
Artu
Artu is Roxy's only pet (but Roxy loves many of the Love & Pet pets). He is a Crotaian bloodhound. Gantlos had severely injured him, which infuriated Roxy, causing something to trigger inside Roxy, earning her Believix. She later used her powers to heal him.
Gallery