A pinch of Fairy Dust will do it!

This Episodes Article is a B! This article is on its way to completion, but does need some minor changes.
Butterflix is the third episode of the seventh season of Winx Club.
Synopsis
In the Alfea of the past, Kalshara, a fairy with dark intentions, manages to have access to an old hall of the college. Crossing a Wild Magic source, she becomes a shapeshifting creature, the first step to obtaining the Fairy Animals Ultimate Power.
Plot
| | |
| --- | --- |
| | This section lacks information. You can help Winx Club Wiki by expanding it. |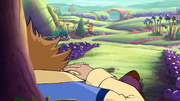 Faragonda suggests going to the Valley of Fruit in order to find Digmoles. Meanwhile, a transformed Kalshara greets her brother, Brafilius, who is fearful of her, not being able to recognize her as his sister. Kalshara tells him about the new powers she has acquired through Wild Magic, but Brafilius is repulsed and wants nothing more to do with the Ultimate Power of the Fairy Animals, the power they searched so long for. In anger, Kalshara forces Wild Magic on Brafilius, transforming him into a dog-like creature. After his transformation, Kalshara orders him to fetch her a Digmole.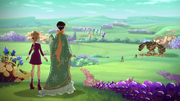 After some unsucccesful attempts by Brafilius, the Winx, Roxy, Faragonda, and Mavilla come upon the brother and sister. Faragonda does not recognize Kalshara, which she thanks Wild Magic for. In order to protect the Digmoles, the Winx and Roxy transform and pursue Kalshara. Brafilius summons the Giant of the Valley to rise and gather the Digmoles. The girls attempt to attack it but they yield no results as it is seemingly impervious to direct attacks.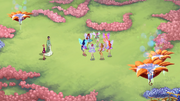 After capturing the Digmoles it starts to descend underground, much to Kalshara's dismay as she has not yet laid her hands on a Digmole. Kalshara attempts to attack Mavilla but is turned into a kitten by Faragonda. Brafilius saves her from Faragonda's clutches and transports away with her. Meanwhile, the Winx and Roxy utilize the strategy of hitting each one of the giant's arms to free the Digmoles, which in turn will defend themselves. Their plan is successful as the Digmoles compromise the integrity of the giant, which causes it to collapse. From the rubble comes stone formations that grant the Winx Butterflix as they have proven themselves worthy as the true defenders of the Fairy Animals. After Faragonda receives praise from Mavilla and releases her Digmole into the wild, the Winx say their goodbyes and prepare to transport back to their own time. Stella states she knows just where to host the park's grand opening party, hinting at the Valley of Fruit.
Major Events
Debuts
Characters
Spells Used
Songs
Script
Trivia
Mistakes
Quotes
Coming soon...