Winx Club - Episode 422
Talk

0
1,134pages on
this wiki
I'll catch you on the download!

This article is a stub. You can help Winx Club Wiki by expanding it. Make sure to check the standards before editing.
Winx Club - Episode 422
Season Four, Episode Twenty-Two


Episode Information

Production Code
422
RAI Title
La torre gelata (The Frost Tower)
Cinelume Title
The Frozen Tower
Nickelodeon Title
Aurora's Tower
Italian Air Date
November 4, 2009
English Air Date
July 15, 2012
Episode Guide
Previous (continuity)
N/A
← Previous
Sibylla's Cave
Next →
Bloom's Trial
Next (continuity)
N/A
The Frozen Tower (Aurora's Tower in the Nickelodeon dub) is the twenty-second episode of the fourth season of Winx Club.
Synopsis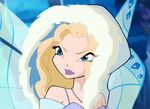 Aurora, Fairy of the North comes to Earth on Morgana's orders, freezing it over and threatening to send the planet into another ice age.
The Winx, using their new Lovix powers, a wintery-themed transformation, go to confront Aurora. The Winx and Roxy track down Aurora in her ice fortress and must do battle with her minions.
After the battle, Aurora traps them in a cage constructed out of ice and snow, and worst of all, Roxy feels her body temperature slowly dropping.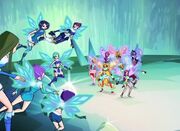 Major Events
The Winx earn their Lovix transformation.
Earth starts to freeze soild.
The Winx save a trapped ship.
Debuts
Characters
Trivia
In the Nick version, Aurora learns that Bloom has the Dragon Flame, but in the other versions she doesn't know Bloom's fire energy is the Dragon Flame.
Nick Voice Cast
Quotes
coming soon..
Videos
coming soon..