Winx Club - Episode 416
Talk

0
1,140pages on
this wiki
Winx Club - Episode 416
Season Four, Episode Sixteen


Episode Information

Production Code
416
RAI Title
Un mondo virtuale (A Virtual World)
Cinelume Title
A Virtual World
Nickelodeon Title
A Virtual Hideout
Italian Air Date
October 19, 2009
English Air Date
June 25, 2012
Episode Guide
Previous (continuity)
N/A
← Previous
Magic Lessons
Next →
The Enchanted Island
Next (continuity)
N/A
A Virtual World (A Virtual Hideout in the Nickelodeon dub) is the sixteenth episode of the fourth season of Winx Club.
Synopsis
In order to hide the White Circle, Tecna creates a Virtual World of Gardenia and hides it in there with the hopes none of the Wizards will find it.
After doing so, Musa comes up with the idea to form a band to perform at the Frutti Music Bar with Andy's instruments. The Winx agree and and leave their apartment. Once leaving, the Wizards come looking for the White Circle and discover it in the Computer, transporting themselves inside and leaving Duman.
Roxy, who is at the Frutti Music Bar at the time, senses danger from the Pets and warns the Winx to go and find the source. Once realizing the Wizards are in the Virtual World, (and capturing Duman), the Specialists send the Winx in after them despite some loss of their magical abilities. After successfully battling the Wizards, Bloom, Layla and Flora release the White Circle creating an explosion from the Positive and Negative energy freeing everyone from the Virtual World. Although Duman and the Wizards escape, the White Circle is once again safe.
On a side note, Helia tries to help Riven impress Musa with gifts, but fails every time.
Major Events
The Winx Girls form a band.
Riven tries to impress Musa.
Debuts
None
Characters
Watch Episode in Nickelodeon's Dub
Nick Voice Cast
Trivia
Musa is shown to still have feelings for Riven and Jason, but ultimately confused on what to do.
Roxy's powers are slowly starting to become stronger.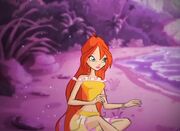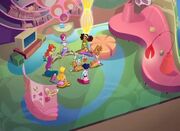 Goofs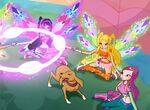 When the Winx use Tracix to find out the secret of the White Circle, Stella had Tecna's Tracix Wings.
When Bloom first powers down from her fairy form, she is in her Tutti Frutti outfit instead of her pajamas.
After the closeup shot of the Black Circle, the scene cuts to the Winx. If you look closely, Roxy is in her fairy form instead of her human form, but without the wings.