Wait! We need a plan!

This Episodes Article is a D! It is in desperate need of improvement. The synopsis needs to be reworded or extended, quotes need to be added and the format is incorrect. Do what you can to help!
...One of you Winx...

This page needs some pictures. Maybe you can help by uploading some images that relate to this page's topic!
A Virtual World is the sixteenth episode of the fourth season of Winx Club.
Synopsis
The White Circle serves as the only key to a dimension where all of Earth's fairies are imprisoned. Tecna hides the Circle in an online video game. When the Wizards are hot on its trail, it's up to the Winx to protect it.
Plot
In order to hide the White Circle, Tecna hides it in her favorite video game.
After doing so,
Musa
comes up with the idea to form a band to perform at the
Frutti Music Bar
with
Andy
's instruments. The Winx agree and leave their apartment. After they leave, the Wizards come looking for the White Circle and discover it in the Computer. They transport themselves inside and leave
Duman
in charge of
love and pet.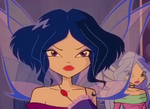 Roxy, who is at the Frutti Music Bar at that time, senses danger from the pets and warns the Winx to go and find the source. Once realizing the Wizards are in the Virtual World, (after capturing Duman), the Specialists help send the Winx into the video game after them despite some loss of their magical abilities. After successfully battling the Wizards, Bloom, Aisha, and Flora release the White Circle creating an explosion from the Positive and Negative energy freeing everyone from the Virtual World. Although Duman and the Wizards escape, the White Circle is once again safe.
On a side note, Helia tries to help Riven impress Musa with gifts, but fails every time.
Major Events
The Winx girls form a band.
Nebula's first physical appearance.
Debuts
Characters
Spells Used
Songs
Cinélume
Nickelodeon
Scripts
Trivia
Musa is shown to still have feelings for Riven and Jason, but ultimately confused on what to do.
Roxy's powers are slowly starting to become stronger.
Mistakes
When the Winx use Tracix to find out the secret of the White Circle, Stella had Tecna's Tracix Wings.
When Bloom first powers down from her fairy form, she is in her Frutti Music Bar outfit instead of her pajamas.
After the closeup shot of the Black Circle, the scene cuts to the Winx. Roxy is seen in her Believix instead of her human form, but without the wings.
In one scene, a part of Roxy's jeans was cut off.
In one scene at the Frutti Music Bar, Musa's hair was not tied in pigtails.
Qutoes
"

Oh, yes yes yes. I love this technical mumbo jumbo.

"
"

Hey, what do you say we form a Winx music band?

"