Winx Club - Episode 414
Talk

0
1,144pages on
this wiki
I'll catch you on the download!

This article is a stub. You can help Winx Club Wiki by expanding it. Make sure to check the standards before editing.
Winx Club - Episode 414
Season Four, Episode Fourteen


Episode Information

Production Code
414
RAI Title
7: Il numero perfetto (7: The Perfect Number)
Cinelume Title
7: The Perfect Number
Nickelodeon Title
Bringing Magic Back
Italian Air Date
October 14, 2009
English Air Date
June 17, 2012
Episode Guide
Previous (continuity)
N/A
← Previous
The Wizards' Attack
Next →
Magic Lessons
Next (continuity)
N/A
7: The Perfect Number (Bringing Magic Back in the Nickelodeon dub) is the fourteenth episode of the fourth season of Winx Club.
Synopsis
The Winx girls and Roxy must deal with their new popularity within Gardenia. While talking over their mission with Miss Faragonda, she offers to look after the White Circle for further study and away from Ogron and the other wizards, to which Bloom agrees.
After meeting Roxy, Faragonda offers the chance to study at the school for the next three years, but Roxy refuses. Roxy runs off with confusion and anger and the other girls decide to follow her.
While looking for Roxy it is discovered that she found a White Tiger cub who had been kidnapped but escaped. The Winx then decide to search when evening came, and went to the Frutti Music Bar.
There, Musa confronts a jealous Riven, explaining how she needs someone who supports her and her dreams, (even after Nabu went over it with Riven earlier). Jason Queen appears suddenly and gives Musa an envelope, causing Riven to storm off once again.
That evening, the Winx and Roxy find two Animal Thieves who are boarding a ship to sell them, but become captured. Thanks to the White Tiger, the Winx escape and Musa uses her Believix power, 
Bright Heart,
 to convince the thieves to release the animals. In the end, it is discovered that Jason's envelope is an invitation to his wedding, breaking Musa into tears. Also, the
Wizards
are shown to be alive.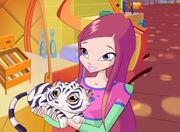 Major Events
Musa is asked to sing at Jason Queen's Wedding
Roxy meets Miss Faragonda
The Wizards of the Black Circle are still alive
Debuts
Characters
Trivia
The name "7: The Perfect Number" refered to the Horcruxes in Harry Potter series.
Script
Nick Voice Cast
Molly C. Quinn as Bloom
Amy Gross as Stella
Alejandra Reyonso as Flora
Morgan Decker as Tecna
Romi Dames as Musa
Keke Palmer as Aisha
Liliana Mumy as Roxy
Matt Shively as Sky
Adam Gregory as Brandon
Charlie Schlatter as Timmy
Sam Riegel as Riven
David Faustino as Helia
Will Blagrove as Nabu
Quotes
"Do you think short hair suits me or maybe a different hairstyle? Maybe Jason likes short hair - then he might notice me more than just for my voice!" - Musa
"My name is Brandon, listen to him!" - Sky
"If Stella could only see him...." - Helia
Videos