Winx Club - Episode 413
Talk

0
1,134pages on
this wiki
I'll catch you on the download!

This article is a stub. You can help Winx Club Wiki by expanding it. Make sure to check the standards before editing.
Winx Club - Episode 413
Season Four, Episode Thirteen


Episode Information

Production Code
413
RAI Title
L'attacco degli stregoni (The Attack of the Wizards)
Cinelume Title
The Wizards' Attack
Nickelodeon Title
Roxy's Energy
Italian Air Date
May 13, 2009
English Air Date
May 20, 2012(UK)
June 17, 2012(USA)
June 27, 2012(Can)
Episode Guide
Previous (continuity)
N/A
← Previous
Dad! I'm a Fairy!
Next →
7: The Perfect Number
Next (continuity)
N/A
The Wizards' Attack (Roxy's Energy in the Nickelodeon dub) is the thirteenth episode of the fourth season of Winx Club.
Synopsis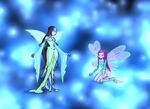 The Winx and the Wizards battle for Roxy, who denied becoming a fairy after Artu was attacked. She finds that she is the only one who can fight back as Ogron threatens to destroy Gardenia and her father.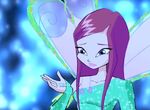 With the aid of the
White Circle
and the
voice in her mind
, Roxy attacks Ogron. When Ogron tries to destroy the city, the people of Gardenia panic. Bloom uses her
Believix
to make them stop and believe. With people believing in fairies, the Winx became stronger and the Wizards of the Black Circle are weakened.
Bloom attacks them, and they disappeared afterwards.However,the girls do not know if they have won for good. In the end, they have a celebration and The Tree of Life starts having new leaves, with Ninfea saying that Earth is now ready to welcome new Fairies.
Major Events
The Fairy Hunters are defeated for the time being.
The Winx get the inhabitants of Gardenia to believe in the existence of magic.
Bloom holds onto the White Circle for Roxy.
Debuts
Characters
Trivia
This was the final appearance of the Pixies in 4th season before they starred in their own show, "Pop Pixie".
During some scenes in the episode, Roxy's yellow tips in her hair were briefly missing.
There is a typographical error in the title at the beginning of the episode where "attack" is spelled "attak".
Mistakes
If you look closely, when Stella was fighting Gantlos, Musa's hair was cut off and half of her arms are gone.

Roxy's Zoomix wings?

Added by

RoseForever

When the Winx are teleporting, if you look closely, you can see Roxy having her Zoomix wings.
Flora's socks are missing.
When Brandon and Duman (in the form of Brandon) were fighting, Stella's eyelashes are gone.
The title becomes "attak", instead of "attack".
Nick Voice Cast
Molly C. Quinn as Bloom
Amy Gross as Stella
Alejandra Reyonso as Flora
Morgan Decker as Tecna
Romi Dames as Musa
Keke Palmer as Aisha
Liliana Mumy as Roxy
Matt Shively as Sky
Adam Gregory as Brandon
Charlie Schlatter as Timmy
Sam Riegel as Riven
David Faustino as Helia
Will Blagrove as Nabu
Quotes
- Riven: "How did you know that wasn't me?"
- Musa: "I know you so right. You never like to work in groups."
- Musa telling Riven how she was able to tell him from Duman disguised as him.