A pinch of Fairy Dust will do it!

This Episodes Article is a B! This article is on its way to completion, but does need some minor changes.
Nebula is the ninth episode of the fourth season of Winx Club.
Synopsis
The Winx discover that the White Circle is the last portal to the realm where the Earth Fairies have been imprisoned by the Wizards. Possessed by a powerful warrior fairy, Roxy turns against the Winx.
Plot
The episode starts with the Wizards stating that they need Roxy and the White Circle's powers to become stronger.
Back at Love & Pet, Stella is seen using the White Circle as a hoop for their pets. Meanwhile, Musa is curious if Jason Queen was really serious about him offering her to become a star. Musa decides to call Jason Queen, and Musa is very happy when Jason lets her audition.
At the Frutti Music Bar, Musa is performing and the rest of the Winx are dancing. Bloom talks to Roxy about being a fairy. Roxy feels unsure about how being a fairy felt like, but Bloom reassures Roxy, stating that she is smart. Then she gives Roxy the White Circle.
Riven feels jealous of how Musa hangs out with a lot of guys, when in reality they have been helping her get ready for the audition. Bloom states how those guys were just friends. Sky then walks over and flirts with another girl and Bloom becomes jealous. Helia and Nabu come by and observe Riven is jealous and Nabu offers to talk to him.
Sky's father appears at the Frutti Music Bar, with Bloom's foster dad, Mike. Erendor is looking for Sky and demands that Bloom tells him where is.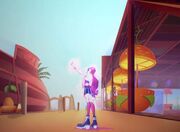 Roxy picks up the White Circle and Artu barks at it. Roxy states she does not like it, but a voice is heard. Artu and the pets run back all scared. That voice happened to belong to Nebula, who demands to be let free and get revenge against the Fairy Hunters. She goes into Roxy's body then tells the White Circle to lead her to Ogron and the Wizards.
The Winx notice that Roxy is acting strange, so they transform and try to find her before it is too late.
The White Circle has lead Roxy/Nebula to the Wizards. The Wizards start attacking but find out that the White Circle was very powerful then what they actually thought. The Winx come in and attack the Wizards. The Wizards once again, surrender to the Winx and Nebula.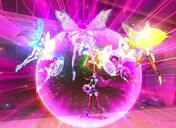 Nebula blames the surrender on the Winx, and tries to attack them. The Winx prevent Nebula from becoming too powerful and Nebula goes back into the White Circle. Roxy faints but is healed by Bloom. Roxy is very clueless to what happened but they go back to the Fruitti Music Bar.
Erendor is angry that Sky has sold the royal seal. They go to the shop were Sky has sold the seal. The owner thought it was a joke when Erendor offered him a bag of gems. Musa used her power and got the owner to believe in magic, the owner then hands back the seal. Erendor is happy that he received the seal back and goes back to Eraklyon.
Major Events
Debuts
Characters
Spells Used
Songs
Cinélume
Coming soon...
Nickelodeon
Coming soon...
Scripts
Trivia
Coming Soon...
Mistakes
Coming soon...
Quotes
"

I don't exactly know. Up until the other day I was just a normal girl with a quiet life, then you Winx arrive and everything changed.

"
"

Time to pay for everything you did to my sisters and I, Orgon!

"
Ad blocker interference detected!
Wikia is a free-to-use site that makes money from advertising. We have a modified experience for viewers using ad blockers

Wikia is not accessible if you've made further modifications. Remove the custom ad blocker rule(s) and the page will load as expected.