Winx Club - Episode 407
Talk

0
1,163pages on
this wiki
Winx Club - Episode 407
Season Four, Episode Seven


Episode Information

Production Code
407
RAI Title
Winx Believix (Winx Believix)
Cinelume Title
Winx Believix
Nickelodeon Title
I Believe in You
Italian Air Date
April 29, 2009
English Air Date
April 29, 2012(UK)
May 27, 2012(USA)
June 19, 2012(Can)
Episode Guide
Previous (continuity)
N/A
← Previous
A Fairy in Trouble
Next →
The White Circle
Next (continuity)
N/A
Winx Believix is the seventh episode of the fourth season of Winx Club.
Synopsis
The girls are excited that they had earned their Believix, all thanks to Roxy. The Wizards of the Black Circle seemed surprised at their new transformation, but go back to trying to capture Roxy. The Winx Club use their new powers which somehow affects the Wizards but not too much.
Roxy is scared and runs away. The Wizards go after Roxy when they find Artu's footprints. A woman finds Roxy and offers her a ride to the Frutti Music Bar but the Wizards has found her and tries to capture her again but the Winx came in on time.
Artu leads Roxy to a hiding place, inside a sewer. Roxy is disgusted at Artu's finding but she is now safe but she openly admits that she is scared. Morgana's voice could be heard and tells Roxy that she is a fairy, a fairy of animals. Morgana also states that Roxy should believe in herself.
The Wizards keep on attacking the Winx and find Roxy again. The Specialists come in and attack the Wizards as well. The Wizards end up surrendering but vows that this wasn't over.
At the Frutti Music Bar, Roxy introduces the Winx to her father. And her father introduces Roxy to the new people who he just hired, who happened to be the Specialists, minus Timmy.
The Specialists start their job and they seem distracted as they serve drinks. The Winx goes back to Love and Pets.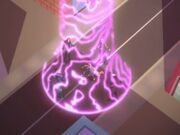 Major Events
The Winx beat the Black Circle
The Winx and Specialists reconcile (Except for Stella and Brandon)
The Specialists (minus Timmy) get jobs at the Frutti Music Bar.
Debuts
None
Characters
Trivia
It was revealed the Specialists worked as pizza delivery boys (and getting fired for delivering cold pizzas caused by getting to customers too fast) before getting hired at Frutti Music Bar
Klaus is really bad at remembering people's names. He referred to the Specialists as:
Smile (Sky)
Brandy (Brandon)
Tobias (Helia)
Rivet (Riven)
Boo-boo (Nabu)
Timmy gave Klaus a fake name (Jimmy), but he was called Timmy regardless.
Script
Nick Voice Cast
Molly C. Quinn as Bloom
Amy Gross as Stella
Alejandra Reyonso as Flora
Morgan Decker as Tecna
Romi Dames as Musa
Keke Palmer as Aisha
Liliana Mumy as Roxy
Matt Shively as Sky
Adam Gregory as Brandon
Charlie Schlatter as Timmy
Sam Riegel as Riven
David Faustino as Helia
Will Blagrove as Nabu
Quotes
"You are a fairy, the Fairy of Animals" - Morgana
Videos
coming soon...