Winx Club - Episode 405
Talk

0
1,156pages on
this wiki
I'll catch you on the download!

This article is a stub. You can help Winx Club Wiki by expanding it. Make sure to check the standards before editing.
Winx Club - Episode 405
Season Four, Episode Five


Episode Information

Production Code
405
RAI Title
Il regalo del Mitzi (The Gift of Mitzi)
Cinelume Title
Mitzi's Present
Nickelodeon Title
Ogron's Spell
Italian Air Date
April 24, 2009
English Air Date
April 22,2012 (UK)
May 20, 2012 (USA)
June 15, 2012 (CAN)
Episode Guide
Previous (continuity)
N/A
← Previous
Love & Pet
Next →
A Fairy in Danger
Next (continuity)
N/A
Mitzi's Present is the fifth episode in the fourth season of Winx Club.
Synopsis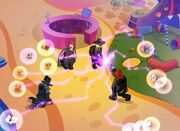 The Specialists attempt to fit in on Earth , but have trouble in doing so. The Wizards of the Black Circle bewitches the animals at Love & Pet, making them become rampaging monsters when they get hungry.
With the help of the Specialists, the Winx captures all of them and reverts them back to normal, rescuing Mitzi from one in the process. Stella and Brandon have a fight as Mitzi kisses Brandon as a thank you for saving her, prompting Mitzi to swear to herself that she will have Brandon in the end.
Major Events
Debuts
Fairy Pets (Monster Form)
Characters
Script
Trivia
When Specialists appears on the roof to help Winx, they shouts like dozen of killers from Scary Movie.
This is the second time that Brandon and Stella break up.
Mitzi becomes Brandon's stalker.
The Specialists get jobs at an auto mechanics garage, but get fired in the same day as Earth vehicles are more primitive than Red Fountain ships.
Mitzi kisses Brandon on the cheek only in the Italian and Nick version.
Voice Cast
Nick Voice Cast
Molly C. Quinn as Bloom
Amy Gross as Stella
Alejandra Reynoso as Flora
Morgan Decker as Tecna
Romi Dames as Musa
Keke Palmer as Aisha
Liliana Mumy as Roxy
Matt Shively as Sky
Adam Gregory as Brandon
Charlie Schlatter as Timmy/Gantlos
Sam Riegel as Riven
David Faustino as Helia
Will Blagrove as Nabu
Daniella Monet as Mitzi
Josh Keaton as Duman
Bumper Robinson as Anagan
Yuri Lowenthal as Ogron
Quotes
Coming soon...
Videos