Winx Club - Episode 306
Talk

0
1,134pages on
this wiki
Winx Club - Episode 306
Season Three, Episode Six


Episode Information

Production Code
306
RAI Title
La scelta di Aisha (The Choice of Aisha)
Cinelume Title
Layla's Choice
4Kids Title
The Mermaid Queen
Nickelodeon Title
Aisha's Courage
Italian Air Date
February 9, 2007
English Air Date
November 18, 2006 (4kids)
November 28, 2011 (Nickelodeon)
Episode Guide
Previous (continuity)
N/A
← Previous
The Sea of Fear
Next →
The Company of the Light
Next (continuity)
N/A
Layla's Choice (Aisha's Courage in the Nickelodeon dub) is the sixth episode of the third season of Winx Club.
Synopsis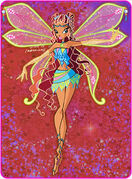 Still blind from Valtor's spell, Aisha tries to help Tressa save her mother, the Mermaid
Queen Ligea
. They then have to find her mother's scepter which could heal Aisha, but is attacked by a serpent.
The Winx girls, minus Stella, proceed to the underwater city of mermaids to aid in a rescue of its queen, while Stella receives news of her place in the new royal hierarchy.
Aisha is offered a chance to heal her blindness when Ligea tells her that she can use the power of her royal scepter when the light of the setting sun hits it to cure her blindness.
However, instead of using the scepter's magic on herself, Aisha uses it to heal the Mermaid Queen, and thus, due to her selfless sacrifice and courage, earns her Enchantix.
Major Events
Debuts
Characters
Trivia
This is the final appearance of Aisha's Winx form, though it is briefly seen in her Enchantix transformations.
Voice Cast
4Kids Voice Cast
Liza Jacqueline as Bloom
Christina Rodriguez as Stella
Kerry Williams as Flora
Lisa Ortiz as Musa, Icy, Digit
Vashty Mompoint as Aisha
Sean Schemmel as Baltor
Caren Manuel as Darcy
Suzy Myers as Stormy
Rebecca Soler as Tecna
Kether Donahue as Tressa
Nickelodeon Voice Cast
Molly C. Quinn as Bloom
Amy Gross as Stella
Alejandra Reynoso as Flora
Morgan Decker as Tecna
Romi Dames as Musa
Keke Palmer as Aisha
Josh Keaton as Valtor
Larisa Oleynik as Icy
Jennifer Cody as Darcy
Kimberly Brooks as Stormy
Quotes
Tressa, what happened? - Aisha
Valtor attacked our castle and destroyed it, he turned most of my family and friends into monsters, my mother was captured and imprisoned, and I was hoping you can help me, but now I realized it's not possible! - Tressa
Aaahh! Help me! - Aisha
Aisha! - Flora
I'm coming, Aisha! - Bloom
Congratulations, Aisha! Your sarafice for Queen Ligea, earn you your Enchantix powers! - Bloom