Vanessa
Talk

4
1,157pages on
this wiki
An arena packed with beauty queens... I'm scared to go in there.

This article is a C. It is missing three or more sections and has little to no imagery. Anything that can be added will be appreciated highly.
Vanessa

Voiced By

Age (at first appearance)

Unknown

Birthday

Unknown

Origin

Earth, Gardenia

Affiliation(s)

Earth

First Appearance

Relationship(s)
Vanessa
is
Bloom
's adoptive mother and the wife of
Mike
. She deeply loves Bloom and supports her with whatever she tries to pursue. She works as a florist in Gardenia.
Appearance
Edit
Vanessa is a slightly tan-skinned woman with short brown hair framing her face and hazel-brown eyes. She wears light makeup, usually consisting of pale yellow-gold eyeshadow and peach lipstick. She is assumed to be between the ages of 30 and 40.
Vanessa wears blue overalls with a white shirt underneath. She wears a yellow apron decorated with green apples around her waist and a light blue necklace. Her shoes are brown wedges with two white sandal straps.
In A Great Secret Revealed, she is seen wearing pink pajamas.
She is a florist and runs her own flower shop in Gardenia . At one point, she is almost cheated out of her flower shop by two business men, who set her shop on fire.
In season one, Vanessa is portrayed as a supportive mother. She encourages Bloom to do her best in the world of Magix and is always there when Bloom needs to get away, as shown when Bloom left Magix after the Day of the Royals at Red Fountain.
Vanessa is first seen in
Invisible Pixies
, in which Bloom, Stella, Aisha, Musa and the pixies go to Earth. Bloom wanted to speak with Vanessa about the upcoming trial against the men who set her shop on fire and about her birth parents.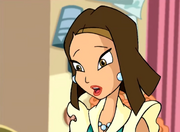 Vanessa is seen in The Heart and The Sword when Bloom returns to Gardenia after her rough experience with Sky, who after announcing Diaspro was the one he loved, forbid the Winx to come near him. Stella then hears of Sky and Diaspro's engagement, and teleports into Bloom's house to warn her, and eventually, Stella and Vanessa persuade Bloom to go with Stella back to Magix.
She and Mike were very glad to have Bloom back after graduation and before her birthday, she announces to them that she doesn't belong in this world anymore. When Bloom has a dream about seeing Daphne, she is surprised to see her friends there for her birthday as Vanessa made a surprise party for her. When Bloom says that she's not giving up, her parents say that they are with her all the time.
At the end they show up at the renuin for Domino, and Vanessa said that Bloom will always be her princess.
She and Mike played host to the girls when they came to earth looking for the last fairy on Earth. She also pays for the Love and Pets shop for the girls to live and work at it for the rest of the season. The reason being was because her husband, Mike was tired of a full house.
Before the girls started to run Love & Pet the fairy pets lived in their house for a while and had complaints that often bothered him, such as Flora practicing magic, Musa playing music loudly in the morning and other interuptions. Another reason was because Mike has strong allergies against animals (except rabbits).
The Winx arrive on Earth, and they end up collapsing outside. Her and Mike, carry them inside and when they wake up they discover they have lost their powers and up staying on Earth until they gain news of what's going in Magix. Elsewhere, the Winx settle into life on Earth.
However, while out at a park, Oritel and Marion visit Bloom's adoptive parents, Mike and Vanessa. Mike shows them a few home videos to give them a taste of what her childhood was like, and Oritel decides to talk to Bloom. Meanwhile, Sky calls Bloom and tells her to meet him on Eraklyon. Bloom returns home, but loses her temper at Oritel instead of talking, before the Winx leave again.
Coming Soon...