Malchior712

Gender

Male

Residence

Manhattan, NY

Birthday

March 31

Zodiac Symbol

Aries

Career Aspirations

Fashion Designer, Novelist, Fashion Critic, Journalist
Hello everyone! I've been a Winx Club fan for quite some time now. I've visited this site countless times before deciding to join and have always been impressed with its level of accuracy. I hope to be able to contribute.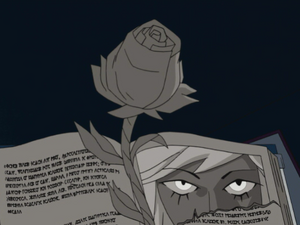 Biography
Edit
I spent the majority of my childhood in the city, as the only child of a prominent high-society type and her first husband. After the inevitable but messy divorce of my parents (the first of MANY to come for my mother), Mom adamently refused to entrust my safety to a stranger (i.e. a nanny or sitter) and instead carted me to every society luncheon and charity gala to which she recieved an invitation--which to this day occupies 75% her calendar. Needless to say, I was exposed to the glamorous life (and shameless scandals) of the wealthy elite very early in life.
As this was a very unorthodox upbringing, I developed an unusual form of entertainment. After discovering that I had an innate ability to see past people's superficial social facades, I realized that the role to which I was condemned--namely to keep quiet and do as I was told--gave me the perfect opportunity to listen and observe. Not to what people told me, which naturally came of no interest, but to whatever it was they were trying to hide. Later, after many observations of my mother's social circle, I realized too the power of gossip. I found it incredible how a few well-chosen words could ruin someone's reputation (and their life). It was then that I discovered just how valuble my talent could be.
I developed a voracious appetite for reading. I found that through books, I could consult philosophers, moralists, and novelists with a turn of a page. It was from books that I learned how to appear, how to think, and what exactly I could accomplish while evading consequences. I practiced detachment. By the time I reached puberty, I could appear perfectly cheerful while under the table I stuck a fork into the my leg. Now, I could device my peers in the way they failed to deceive me. I became a virtuoso of deceit. It wasn't pleasure I was after, it was knowledge.
In short, I am an information junkie with a delinquent child's take on morals and ethics. Since I was very young, I've had an obsession with knowledge and have never handled witheld information well. This insatiable thirst for answers has served me well academically, as I absorb information like a sponge. Conversely (and some might argue, hypocritically) I am not quick to share information about myself, and even some of my closest friends consider me enigmatic. I strive to surround myself with people that I find interesting, preferring to spend time with others like myself, complex puzzles to be solved.
In addition to my academic success, I am an avid artist--an attribute that drew me to this show to begin with.
My favorite pages
Edit
Other Interests
Edit
A

Abra Moore
ADELE
Aimee Mann
Akon
Alicia Keys
Angel Taylor
Annie Lennox
Auburn
Avril Lavigne
Azure Ray

B

B.o.B
Beckah Shae
Beyonce
BG5
Billy Joel
Billy Porter
Black Eyed Peas
Brian McKnight
Britney Spears
Bruno Mars

C

Camille
Cascada
Cassie
Cee Lo Green
Celine Dion
Chaka Khan
Charlotte Sometimes
Cher
Chris Brown
Christina Aguilera
Ciara
Cobra Starship
Colbie Caillat
Coldplay
Cooler Kids
Corinne Bailey Rae

D

dalton grant
Darude
Debi Nova
Diane Birch
Digital Daggars
Donna Lewis
Dot Dot Dot
Duffy

E

Earth, Wind & Fire
Eartha Kitt
Eddie Money
Elise Estrada
Emilie-Claire Barlow
Enrique Iglesias
Erin McCarley
Estelle

F

Fall Out Boy
Feist
Fergie
Five For Fighting
Flo Rida
Florence + The Machine
Fort Minor
The Fray

G

George Benson
George Fenton
Gladys Knight
Glenn Miller
Gnarls Barkley
Good Charlotte
Gwen Stefani

H

Hans Zimmer
Hanson
Heitor Pereira
Helena Bonham Carter
Hellogoodbye
Hey Monday
Hilary Duff
Hinder
Hoku
Huey Lewis

I
J

Jakaranda
James Horner
Jamiroquai
Janet Jackson
Jason Derulo
Jason Mraz
Jay Sean
Jay-Z
Jealousy Curve
Jennifer Lopez
Jennifer Paige
Jessica
Jessica Simpson
Jessie J
Jessie James
Jets Overhead
Jo Dee Messina
Joe
Joel McNeely
John Legend
John Mayer
Johnny Gill
JoJo
Jon McLaughlin
Jordan Pruitt
Jordin Sparks
Josh Groban
Josh Hoge
Joss Stone
Joy Williams
Julia Sheer
Justin Timberlake

K

Katharine McPhee
Katy Perry
Ke$ha
Kenny G
Kevin Lyttle
Khaleel, Bob
Kris Allen
KT Tunstall

L

The La's
Lady Antebellum
Lady GaGa
The Leedsy Ports
Leigh Nash
Leighton Meester
Lenka
Leona Lewis
Leona Naess
Lifehouse
Lil Wayne
Linda Ronstadt
Linkin Park
Lisa "Left Eye" Lopez
Liz Callaway
Liz Phair
LMFAO
LMNT
Lori Carson
Louis Armstrong
Loverboy
Luce
Lucy Schwartz

M

Macy Gray
Madonna
Marc Broussard
Mariah Carey
Marie Digby
Mario
Mark Isham
Maroon 5
Martina Sorbara
Mary J. Blige
Mat Kearney
McFly
Meleni Smith
Metro Station
Michael Jackson
Mike Posner
Miley Cyrus
Millionyoung
Mocean Worker
Montgomery Smith
MoZella
Muse

N

Natasha Bedingfield
Nathan Anderson
Naturi Naughton
Ne-Yo
Neon Trees
Nickelback
Nicole Scherzinger
Nikki & Rich
Norah Jones

O

OneRepublic
Orianthi
Out Hud
Owl City

P

P!NK
Panic at the Disco
Parachute
Parade of Lights
Paramore
Passion Pit
Peter Bjorn and John
Pitbull

Q
R

Reiss
The Rescues
Rick Astley
Rihanna
Rusted Root

S

Sara Bareilles
Sarah McLachlan
The Script
Seismic
Semisonic
Shaffer Smith
Shania Twain
Shawn Colvin
Shiny Toy Guns
Shontelle
Simple Plan
Sixpence None the Richer
Sky Sailing
Sofi Bonde
Stacy Clarke
Stereophonics
Straight No Chaser
Swimming With Dolphins
Sydney Forest

T

T-Pain
Taio Cruz
Tal Bachman
Taylor Dayne
Taylor Swift
Theodore Shapiro
Toby Lightman
Tom Petty
Train
Two Door Cinema Club

U
V

Vanessa Carlton
Vanessa Hudgens
The Veronicas
The Verve
Vitamin C

W

We the Kings
The Weekend
Weezer
Whitney Houston

123
Literature
Edit
The Twilight Saga, by Stephenie Meyer

Twilight
New Moon
Eclipse
Breaking Dawn
The Short Second Life of Bree Tanner
The Official Illustrated Guide

The Harry Potter Series, by J.K. Rowling

Harry Potter and the Sorcerer's Stone
Harry Potter and the Chamber of Secrets
Harry Potter and the Prisoner of Azkaban
Harry Potter and the Goblet of Fire
Harry Potter and the Order of the Phoenix
Harry Potter and the Half-Blood Prince
Harry Potter and the Deathly Hallows

The Millennium Series, by Stieg Larsson

The Girl With the Dragon Tattoo
The Girl Who Played With Fire
The Girl Who Kicked The Hornet's Nest

A Thousand Splendid Suns, by Khaled Hosseini
The Book Thief, by Markus Zusak
The Seven Deadly Sins Series, by Robin Wasserman

Lust
Envy
Pride
Wrath
Sloth
Gluttony
Greed

The Private Series, by Kate Brian

Private
Invitation Only
Untouchable
Confessions
Inner Circle
Legacy
Ambition
Revelation
Paradise Lost
Suspicion
Scandal
Vanished
Ominous
Vengeance
The Book Of Spells

A Factory of Cunning, by Philippa Stockley
The Devil Wears Prada, by Lauren Weisberger
Cruel Intentions
Cruel Intentions 3
Mini's First Time
Wild Things
Wild Things 2
Wild Things: Diamonds In The Rough
Wild Things: Foursome
Dangerous Liaisons
Limitless
The Harry Potter Series
The Twilight Saga
The Devil's Advocate
The Devil Wears Prada
The Women
It's Complicated
Something's Gotta Give
Hitch
The Hangover
The Hangover, Part 2
Valentine's Day
Television
Edit
Friends
House
Drop Dead Diva
Golden Girls
Project Runway
Reba
The Nanny
Hot In Cleveland
Happily Divorced
Keeping Up With The Kardashians
Anime/Manga
Edit
Sailor Moon
Rosario + Vampire
Naruto
+ Anima
Video Games
Edit
Legend of Zelda (Series)
L.A. Noire
Professor Layton (Series)
Hotel Dusk: Room 215
The Sims (Series)