Welcome to the neighborhood of the Elves!!!
Edit
Dreammaster13666

A.K.A.

The Evil Elf

Favorite Comics

Yu-Gi-Oh! Manga

Favorite TV-shows

Pop Pixie, Winx Club, Monster High, The Simpsons, Yu-Gi-Oh! (2000 TV series), Hellsing Ultimate

Favorite Music

Heavy Metal, Hard Rock

Favorite Movies

Horror

Favorite game

League of Legends

Zodiac

Scorpion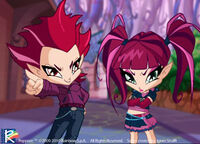 Other accounts
Edit
My Signature
Edit
Dreammaster13666 Dark Lord of the Elves
My TalkBoxes
Edit
Dreammaster13666 - Hi
TALK - What's up
My regular Talkbox
Dreammaster13666 - Happy Elf
TALK -
This talkbox is for when I'm in a good mood.
Dreammaster13666 - Anger of the Elves
TALK - You better watch out!!!
You are warned when I use this talkbox!!!
Which Elf is your favorite?
My Favorite Characters
Edit