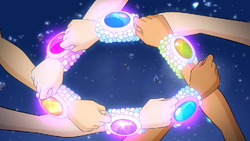 The
Tynix Bracelets
are magical items introduced in
Season 7
.
Overview
When the Winx's Fairy Animals found the magic harmony among them, they bestowed the Tynix Bracelets upon the Winx. With the Tynix power contained inside the bracelets, the Winx can travel into the MiniWorlds in their search for the Fairy Animals' Ultimate Power, while helping to maintain the ecosystems of the MiniWorlds they visit.
Appearance
They Tynix Bracelet is a bracelet made of pearls and is embedded in a larger oval jewel in the center. The pearls and jewels are in the respective color shades of the wearer.
Series
Season 7
Ad blocker interference detected!
Wikia is a free-to-use site that makes money from advertising. We have a modified experience for viewers using ad blockers

Wikia is not accessible if you've made further modifications. Remove the custom ad blocker rule(s) and the page will load as expected.