Tressa
Talk

1
1,142pages on
this wiki
Wow, did I just say that?

This article is a B. This article is a B, meaning it is missing three or fewer sections, or some images need to be added. Please do what you can to help!
Princess Tressa

Voiced by

Alberta Viti (Original/Italian; Season 3) Eleonora Reti (Original/Italian; Season 5)
Kether Donahue (4Kids)
Laura Bailey (Nickelodeon)

First appearance

Origin

Andros

Relationships
Princess Tressa is the princess of the mermaids and tritons. She is the daughter of Queen Ligea and King Neptune. She has twin brothers Nereus and Tritannus and she is the heir to the mermaid throne. She is also Aisha's cousin. When Valtor invaded Andros, Tressa was able to avoid capture but mainly due to phobia. When she escaped, she went looking for Aisha and eventually found her and the Winx. Aided by the Winx, she rescued her mother and saved Aisha from the Kraken.
Appearence

She has red hair that is tied in a ponytail, and eyes that are similar to the color orange. She is mermaid so she has sort of a purplish-blueish tail. It looks like fish tail, not like other mermaids. Tressa's wings have dark blue, dark orange and dark yellow parts with black lines.
Seasons
Her first appearance is in Episode 3. She asks Aisha for help to free her mother, who was imprisoned by Valtor. She leads Aisha and the Winx Club to the Kracken's cave and opens her mother's jail. After eventually escaping the Kraken's cave, her mother volunteers to use her staff with a coral stone on top to cure Aisha's blindness, but they must catch the last rays of the sun. They hurry to catch the last sun ray, but the monster hits Tressa's mother and she falls. Tressa goes to her rescue and finds out that she is dead. The Winx help Tressa bring her to the surface and Aisha uses the coral stone to save Tressa's mother, gaining her Enchantix.
In Season 5, it shows Tressa speaking with
Aisha
over a video chat, showing the Winx the ceremony of one of the princes claiming the crown and title as king. When
Tritannus
attacks Nereus, the chat session ended, leaving the Winx in confusion. In
Andros
, i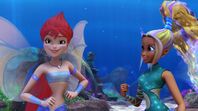 t shows that Tritannus had disrupted the ceremony; Tressa being one to act, wanted to fight the masked man (Tritannus), but her mother
Queen Ligea
told her to protect her brother. Some time later, she along with King Neptune gets turned into mutant mer-monsters. Later on in
The Eclipse
, she and
Nereus
were restore back to mermaids by Aisha with
King Neptune
's sword.