Wow, did I just say that?

This article is a B. It is missing three or fewer sections, or some images need to be added. Please do what you can to help!
Taboc the Wise is a family friend of Aisha's from Andros. His first and only appearance was in "One Last Fluttering of Wings."
Appearance
Taboc has dark colored eyes, his hair and beard are grey and white. He wears earrings, a red headband, a long yellow and purple cape, a long garment that is white and yellow with a light blue strap that has diamonds and is tied across his chest. And he is barefooted.
Personality
He appears to be a wise and powerful wizard.
Pre-Series
He helped other powerful wizards create the Omega Dimension portal on Andros.
Series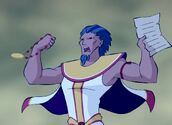 He brought the spell to close the Omega Portal to the
Winx
after
Valtor
had escaped from the
Omega Dimension
, but the scroll on which it was written was carried away by the magic wind generated by the negative energy escaping from the Omega Dimension and to close the Portal,
Tecna
volunteered to close it from inside since it was the only possible way left, and thus gained her
Enchantix
. After Tecna closed the portal, Taboc said she was trapped in the Omega Dimension forever.
Ad blocker interference detected!
Wikia is a free-to-use site that makes money from advertising. We have a modified experience for viewers using ad blockers

Wikia is not accessible if you've made further modifications. Remove the custom ad blocker rule(s) and the page will load as expected.