An arena packed with beauty queens... I'm scared to go in there.

This article is a C. It is missing three or more sections and has little to no imagery. Anything that can be added will be appreciated highly.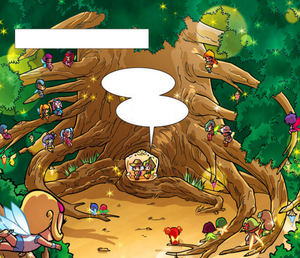 The Story Tree is the place where the Pixies often meet to chat and exchange news and tidbits. This is where in the comics Ninfea summarized Season 2 to Traveling Pixie. This appears to be a popular place among the pixies. It appears all the pixies show up to the story tree when a meeting is in place. There is a reporter pixie who records major events that take place so they can be shared in more detail under the Story Tree and be kept for later.
Appearance
Resembling a Odeon, the Story Tree is long with its branches turned to the front slightly curving making it a perfect place for sitting. Its leaves are dark green and its trunk is light brown with a little place for a bench on the center at its root.
Comics

The Story Tree is mentioned in Monsters on the Loose, after the long awaited return of The Traveling Pixie, Ninfea let it slip that Piff and her friends have gone through many dangerous situations. Worried about her friends The Traveling Pixie asks what happened, which leads her Pixie friends to explain.
Gathering around on the Story of Tree, Chatta and Tune suggest Ninfea to use the picture book, brought by the Reporter Pixie, telling the story of all that happened with them. After the story is finished all the Pixies cheers and ask for the Traveling Pixie to tell her stories.
Trivia
The Story Tree resemble a ribcage.
The tree have many lanterns on its branches meaning stories can be told at night as well.