Stormy
Talk

6
1,647pages on
this wiki
Wow, did I just say that?

This article is a B. This article is a B, meaning it is missing three or fewer sections, or some images need to be added. Please do what you can to help!
Stormy

Voiced by

Valeria Vidali (Original/Italian)

Kimberly Brooks (

Nickelodeon

)

Sarah McCullough (season 1 to third episode of season 3), Anik Matern (after third episode of season 3) (RAI English)

Suzy Myres (

4Kids

)

Origin

Affiliation(s)

Powers and Abilities

Storm Manipulation
Flight

First Appearance

Relationship(s)
Stormy is a witch who's been described as the "Queen of Storms" or "Storm Queen". She is the youngest of the Trix sisters and as such happens to be the weakest of them, but what she lacks in power she makes up for by being the most aggressive one. She is also seen to be very full of herself, always believing she is indeed the strongest. Extremely proud and immature, her most defining feature is most-likely her frizzy "storm cloud" shaped hair and "lightning" shaped bangs.
Personality Profile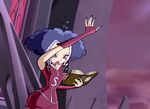 Stormy's personality matches her theme, hair, name, and eagerness. She is very quick to anger and rage, out of the three sisters and is the master when it comes to things like grudges. To the point of even disguising herself and enduring hours of pointlessness just to make sure her revenge is met. She secretly believes she is the strongest, but even then she is usually tormented by Icy whenever she gets the chance or just feels like harassing her older sisters.
Series
Seasons
Specials
Movies
Appearance
Powers and Abilities
Main article: List of Stormy's spells
Stormy creates and controls storms, thus deriving a pun from her name. She can create strong gusts of wind. She draws her powers from the storms and the wind.
Trivia
Stormy is the only witch without straight hair throughout the whole series besides her Headmistress.

The only time she straightened her hair was to disguise herself as a different fairy in Season 2 episode 15, and she changed the color of her hair too.

Her polar opposite is most likely either Tecna or Flora. Flora is an earth affinity while Stormy is based on the sky, and Tecna is the fairy of technology (controlled electricity), whereas Stormy controls storms (wild electricity).
Stormy disguised herself as a fairy three times.
Stormy has had two fan-service shots.
In the RAI English version, Stormy has the same voice actress as Musa.
Whisperia is the home planet of the Trix in the 4Kids version.
Stormy is the only member of the Trix that never liked someone whom her sisters did not like as well, since Darcy liked Riven in Season 1 and Icy liked Tritannus in Season 5.
Tecna, Nebula and Stormy all have a spell called 'Electric Storm'.
In a 4Kids promo, it is said that her power source is centuries of fighting in conflict.
Stormy's Birthday is on May 5. (The same day as both of her sisters.)