An arena packed with beauty queens... I'm scared to go in there.

This article is a C. It is missing three or more sections and has little to no imagery. Anything that can be added will be appreciated highly.
Prince Sponsus is the husband of Amentia.
Appearance
Sponsus has a pale-yellow skin tone with short red hair. He has blue eyes and wears a nude colored outfit with a thick blue band at the top.
Personality
He is known to have a friendly, and helpful personality as shown in Princess Amentia, when he tried to help Stella recover from her lack of sunlight. He is also quite shy, and is in love with Princess Amentia. He also is very loyal to her, and is the only person who believes that each person is linked to a crystal.
Series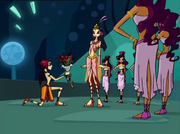 He tried to help Stella recover from her lack of sunlight but he was devastated when Amentia fell in love with Brandon. Amore gave him a soulmate blossom to put in Amentia's bouquet that made Amentia fall in love with Sponsus as soon as she smelled its scent so she married him.
Ad blocker interference detected!
Wikia is a free-to-use site that makes money from advertising. We have a modified experience for viewers using ad blockers

Wikia is not accessible if you've made further modifications. Remove the custom ad blocker rule(s) and the page will load as expected.