Winx Club Forever

This article has been completed. Please do not add any categories, pictures, or edits!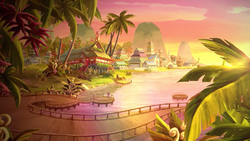 The
Song Wharf
is a port from which the summer house of
Musa
and
Ho-Boe
is nearby.
Overview
It is a port from which the summer house of Musa and Ho-Boe is nearby. Not far from it is where the Singing Whales live and sing their song on Singing Whales' Day.
Pre-Series
As a child, Musa was there every summer with her family, where they also own a house.
Series
Season 5
In "Secret of the Ruby Reef," where the Winx go in the search for the gem, it reminds Musa of her past and time she spent with her mother. After she, Stella and Aisha used their Harmonix, Tritannus - who had forced himself through the Ocean Gate of Melody by absorbing the powers of Sonna, appeared and tried to turn Aisha into an monster, but Musa jumped in front of the ray and was turned into a monster instead.
In "The Singing Whales," after Musa told Riven how much she missed her mother and his sudden need to leave, Musa reveals that it is the Singing Whales' Day and calls her father. Ho-Boe answers and he shows Musa the whales.
After Tritannus successfully takes the seal from the Pillar of Balance, the balance of the entire Magic Dimension begins to shift, throwing everything into chaos. Feeling abandoned by Icy and Tritannus, Darcy and Stormy stage their own evil deed - kidnapping the Singing Whales of Melody.
When the Winx enter the Infinite Ocean, the Singing Whales appear, enchanted by Darcy and Stormy, and are ordered to finish them off. As the Winx get ready to defend themselves against them, Musa reveals that the whales are vital to Melody's survival. Musa then sings her mother's favorite song and relinquishes them from the Trix's spell and the whales return to Melody.
The Winx return later to Melody and Musa joins her father and pines for her mother, thinking of using her Sirenix wish to bring her back but decides not to. Musa and her friends then return home and the whales wave goodbye to her.
Gallery
Ad blocker interference detected!
Wikia is a free-to-use site that makes money from advertising. We have a modified experience for viewers using ad blockers

Wikia is not accessible if you've made further modifications. Remove the custom ad blocker rule(s) and the page will load as expected.