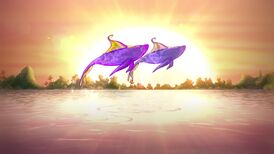 The
Singing Whales
are magical creatures that appear in
Season 5
and
Winx Club: The Mystery of the Abyss
.
Overview
The Singing Whales keep Melody in balance. According to Musa, Melody will fall apart without them. On the Day of Singing Whales, they reveal themselves while singing their song.
Appearance
The whales have a purple appearance with yellow fins.
Series
The whales' song is one of Musa's mother's favorite songs. Darcy and Stormy use them to attack the Winx. Thanks to Musa's power, she frees them and sends them back to Melody.
In "Winx Club: The Mystery of the Abyss", they only make an appearance in the beginning of the movie.
Trivia
Gallery
Ad blocker interference detected!
Wikia is a free-to-use site that makes money from advertising. We have a modified experience for viewers using ad blockers

Wikia is not accessible if you've made further modifications. Remove the custom ad blocker rule(s) and the page will load as expected.