Winx Club Forever

This article has been completed. Please do not add any categories, pictures, or edits!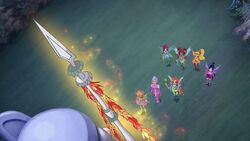 The
Silver Spear
is the second necessary item to lock the
Legendarium
.
Overview
According to Daphne, it is located on a magic totem in Fearwood, Canada. It was said to have the ability to scare off Werewolves. It releases a bluish-white aura that has the power to turn the monsters back to normal.
Appearance
It has a large silver metal rod attached with feathers that are yellow and orange.
Series
In "The Curse of Fearwood", it makes a minor appearance in the Canada's Fearwood Forest in the Legendarium World and it on the sled that Icy is riding with Helia. 
In "The Magic Totem", Flora brought back the Silver Spear into the Canada's Fearwood Forest and found the last item to forge the Legendarium Key.
Gallery
Ad blocker interference detected!
Wikia is a free-to-use site that makes money from advertising. We have a modified experience for viewers using ad blockers

Wikia is not accessible if you've made further modifications. Remove the custom ad blocker rule(s) and the page will load as expected.