Shinobi's staff
Talk

0
1,140pages on
this wiki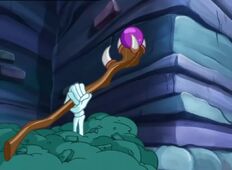 Shinobi's staff
was the Prized Possesion of
Shinobi
, past leader of the Elves and the Great-Great-Grandfather of Rex. The Staff is an ancient and powerful Item that amplifies an Elves Dark Magic. It is a long wooden rod with its top shaped like a claw holding a purple gem. The staff is the completely opposite of
Ninfea
's staff; her power is mostly generated from light, when the staff's power is mostly generated from darkness. When
Rex
fell into the
Catacombs of Pixieville
by accident, he saw the the staff and the only thing remains from his great-great-grandfather: the bones of his right arm. After he climbed out of the catacombs, he showed the power of the staff to the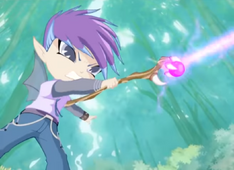 other
Elves
and destroyed the bones of the arm and made a plan to conquer
Pixieville
with the "legacy" of Shinobi.

Rex took advantage of the one time in Pixieville where the Magic Pops stopped working and launched an invasion. He used the Dark Magic of the Staff to call forth his monster allies that the Pixies had defeated in the past. With the Staff, Rex captured Ninfea and threw Pixieville into chaos. Rex thought that as long as he had Shinobi's Staff, he would be be invincible. Realizing that, he decided to destroy the Tree of Life, despite Ninfea's pleading. However, after Lockette, Caramel, Martino, and Cherie recovered the Sacred Scepter, Rex's plan began to fail. The Pixies regained the power of their MagicPops and fought back. The Pixies defeated Rex's army and Rex took his last stand against Ninfea and the Sacred Scepter.
Out of pure anger, Rex unleashed the full power of the staff against Ninfea. In the end, Rex was overpowered by Ninfea and the Staff of Shinobi was destroyed.