Winx Club Forever

This page is completed. Please do not add any categories, pictures or any edits!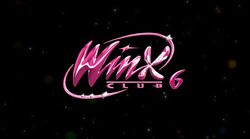 Overview
The sixth season of Winx Club, co-produced by both Rainbow S.r.l. and Nickelodeon, premiered on September 29, 2013. The Trix will return as the villains of the season and the Winx will earn a new transformation as in the previous seasons.
This is also the last season to be dubbed by Nickelodeon according to Romi Dames' (Musa's Nickelodeon voice actress) tweet on Twitter.
Synopsis
A new witch named Selina joins Cloud Tower. She owns an evil book called Legendarium and through it she is able to make legends come true. The Trix take over Cloud Tower and make it fly, then order Selina to summon legendary creatures out of the Legendarium and unleash them against the magical schools. Bloom leads the Winx against the witches, but the Winx, excluding Bloom, accidentally lose their powers: will the Winx manage to get their fairy powers back and save the schools of the Magic Dimension, threatened by the legendary creatures? Comedy, action, friendship, romance, in a new exciting adventure for the Winx Club fans... and everyone else!
Episodes
Trivia
Trailer