Winx Club Forever

This article has been completed. Please do not add any categories, pictures, or edits!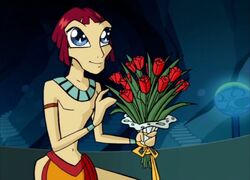 The
Rose of the Abyss
is a flower introduced in
Season 2
.
Overview
The Rose of the Abyss is a rare flower that emits a sweet smell.
Appearance
As its name suggest, the Rose of Abyss resemble the woody perennial flowering plants of the genus rose. Similarly to the common hybrid tea rose, the Rose of the Abyss' petals are long, red, and slightly squared. The flower has a green stem with no thorns, and its leaves are long and thin resembling those of orchids.
Series
Season 2
In "Princess Amentia," Sponsus presents a bouqet of Roses of the Abyss to Amentia. She accepts but is angered when she realizes that one of the petals is wilted. As Amentia proclaims that Sponsus has wasted her time, she throws the bouquet and it hits one of the belly dancers.