Wow, did I just say that?

This article is a B. This article is a B, meaning it is missing three or fewer sections, or some images need to be added. Please do what you can to help!
Riven

Voiced by

Mirko Mazzanti, Emiliano Coltori (movies) (Original/Italian)

Mitchell Rothpan (

Cinélume

)

Michael Sinterniklaas (

4Kids

)

Sam Riegel (

Nickelodeon

)

Age (at first appearance)

16

Birthday

October 15

Origin

Unknown

Affiliation(s)

Skills, Abilities, and Weapons

First Appearance

Relationship(s)
Riven is the stubborn maverick of the Specialists and is Musa's former love interest.
Appearance
Personality
Riven tends to be a bit of a lone wolf. He is very competitive and can get jealous easily, sometimes aggressive, and has an aptitude for sports and physical combat. Riven often puts up a cold front, and has trouble expressing his emotions. He grew up alone, so he lives for himself according to his own rules. His mother abandoned him at birth which caused him to be wary of women in general.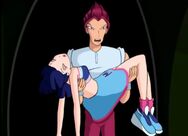 He dates Musa and he is an excellent swordsman, wielding a scimitar-styled purple phantoblade and a bolls. He is skilled at all kinds of sports as well as a skilled thief and lock picker. This bit of knowledge served him well when he was trapped in the dungeons of Cloud Tower by the Trix. Riven picked the lock that had been put on his cell door. Some characters see him as a daredevil, clever and touchy. Riven is best friends with Nabu and is most competitive with Sky. Moreover, due to the events in Season 4, Riven becomes more compassionate. In Season 5 it seems that Riven is a bit more relax, happy and less angry overall, but in Season 6, he returns to his previous competitive state.
Series
Pre-series
Riven's mother abandoned him when he was very young.
Seasons
Specials
Movies
Skills
Riven is an excellent swordsman, wielding a scimitar-styled purple phantoblade and a bolla. He is also very good at dragon wrangling, and is a very skilled thief and lock picker. Riven seems to be the most knowledgeable in stealth and strategic planning.
Gallery
Main article: Riven/Gallery
Trivia