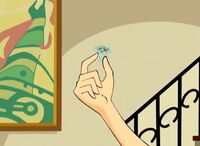 The
Ring of Solaria
(also called
Sword of Power,
Sword of Solaris
, or
Sword Ring
) is a magical ring that belongs to
Stella
. It can be turned into a scepter that Stella usually uses to help cast spells, or teleport herself and other people to a certain place. According to Stella, the ring is made of 6.1 pure magic.
Appearances
It is cyan blue. When it is in its ring form, it is a ring with a sun-shaped circle. Same goes with the scepter form, except it is now much bigger and instead of the ring there is long staff with the sun-shaped circle being on its top.
The base is cyan blue. It has six orange jewel spheres on top - one in a middle and other five around it forming a pentagon. While transformed in a scepter it has a cyan blue sphere on top of it, but instead of the big wheel alike ring around it, it has six orange jewel spheres, once again - one in a middle and five around it forming the pentagon. On outside there's also five small spheres attached to the bigger ones.
Chimera's scepter is different. It is a purplish, darker version of Stella's Scepter that's shaped like a diamond with a purple jewel.
History
It is a part of the lineal right of the princess of the sun and moon of Solaria and has been in the royal bloodline of Solaria since forever. It was sculpted so long ago that no one remembers when. It was carved out of a stone, immersed in the Spring of Light which still flows in the universe. The ring was also considered as one of the most precious gifts offered by the Dragon Flame.
Series
Trivia
In the Nickelodeon version, the ring and the scepter went under a major change.
Stella is only Winx to use an object as a weapon while being in her Winx form. This object is, of course, the ring in its scepter form.
Chimera's scepter is the dark version of Stella's.

When Countess Cassandra controls Solaria, Chimera is known as the "new princess" and she used a scepter. However, it is unknown if she wore a ring that can transform into the scepter just like Stella's ring or she used it as a must-have weapon to attack or not.
The ring could most probably be used to gain Bloomix as it holds a piece of the Dragon flame (was created by the Great Dragon). However as the Trix couldn't find a piece within it this likely isn't the case.
The Ring was redesigned for the Nickelodeon specials, but in Season 3 of Nickelodeon's dub, the ring has remained its original appearance, leaving fans confused.
Gallery
Ad blocker interference detected!
Wikia is a free-to-use site that makes money from advertising. We have a modified experience for viewers using ad blockers

Wikia is not accessible if you've made further modifications. Remove the custom ad blocker rule(s) and the page will load as expected.