Wow, did I just say that?

This article is a B. This article is a B, meaning it is missing three or fewer sections, or some images need to be added. Please do what you can to help!
Priscilla is a fairy who attends Alfea. She is mostly seen with Luna and Katy.
Appearance
Personality
Priscilla is a bold and outgoing person who is capable of giving good advice.
Series
Seasons
Comics
#12: Magic Battle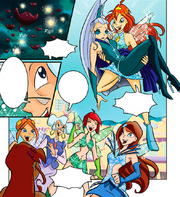 Priscilla makes her debut in Issue 12: Magic Battle where she is fending off the Trix's Army of Darkness with her classmates alongside the Specialists and witches of Cloud Tower that have joined their forces. She is not seen into the very end of the issue, just after the Trix have been soundly defeated by the Winx. She celebrates their victory in the war with Francine, Silicya, another fairy and Faragonda as Bloom makes her return with an unconscious Icy in her arms.
Magical Abilities
Priscilla, as Fairy of Trees, has nature-based powers. Priscilla has the ability to hear the murmurs of the plants and trees. Priscilla can shoot green balls of magical energy at an enemy.
Priscilla may know some basic, first-level spells that all fairies can use, such as telekinesis, transmuting objects, and fixing minor messes.
Trivia
Her name is of Latin origin and means "ancient".
Ad blocker interference detected!
Wikia is a free-to-use site that makes money from advertising. We have a modified experience for viewers using ad blockers

Wikia is not accessible if you've made further modifications. Remove the custom ad blocker rule(s) and the page will load as expected.