Power to Change the World
Talk

1
1,680pages on
this wiki
Winx Club Forever

This page is completed. Please don't add any categories, pictures or any edits!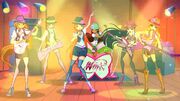 Power to Change the World
is a song from the
fifth
season
of
Winx Club
. The French version is sung by Méry Lanzafame. Another version of the song has been made for a special video named Aisha - What a Fantastic Video.
An instrumental for the song, titled Wonders of the Infinite Ocean, was released for the Winx Sirenix Power app game.
Lyrics
Italian
Alberi, i fiori e colori
È la natura che splende in me
(Yeah yeah)
Ma non basterà il rispetto
È un momento e tu
Devi scegliere adesso
(Scegliere adesso)
Se tu lo vuoi il mondo cambierà
(Se vuoi tutto cambierà)
Con noi il mondo cambierà
(Se vuoi tutto cambierà)
L'amicizia è magica
Questo sogno è già realtà
Se ci credi lo sai
Che se vuoi il mondo cambierà
English
I love clouds, and the sun and trees
Love the smell of the ocean breeze
(Yeah yeah)
But it's not enough to respect it
If you love the Earth
Then you gotta protect it
(Gotta protect it)
You have the power to change the world
(Oh oh oh)
Power to change the world
(Oh oh oh)
And it's right in front of us
Every boy and girl in the world
Has the power to change
The power to change the world

SECOND VERSION
Just plant a tree with your own two h​​ands
And I know you'll understand
(Yeah yeah)
Just turn the lights on when it's dark
Now's the perfect time to start
(Yeah yeah)
And a little bit makes it better
There's a difference
When we do it together
(Do it together)
You have the power to change the world
(The world, the world)
The power to change the world
(Oh oh oh)
And it's right in front of you
Every boy and girl in the world
Has the power to change
And it's right in front of us
Every boy and girl in the world
Has the power to change
The power to change the world
French
J'aime les nuages, les arbres, le soleil
L'océan quand la brise s'éveille
(Yeah yeah)
Ces merveilles il faut les respecter
Si tu aimes la Terre
N'oublie pas de la protéger
(N'oublie pas de la protéger)
Tu as le pouvoir de changer le monde
(Le monde, le monde)
Le pouvoir de changer le monde
(Le monde, le monde)
Tu as toutes les clés en toi
Fille ou garçon toi
Tu as le pouvoir de changer
Le pouvoir de changer le monde

SECOND VERSION
Vas, plantes un arbre de tes propres mains
Tu verras que ça fait du bien
(Yeah yeah)
N'allume la lumière qu'à la nuit tombée
C'est maintenant qu'il faut commencer
(Yeah yeah)
Tout sera différent, il me semble
Si nous pouvons faire
Un premier pas ensemble
(Un premier ps ensemble)
Tu as le pouvoir de changer le monde
(Le monde, le monde)
Le pouvoir de changer le monde
(Le monde, le monde)
Tu as toutes les clés en toi
Fille ou garçon toi
Tu as le pouvoir de changer
Tu as toutes les clés en toi
Fille ou garçon toi
Tu as le pouvoir de changer
Le pouvoir de changer le monde
German
Ich mag die Sonne und auch Wolken sehr
Lieb den Geruch von Bäumen und dem Meer
(Yeah yeah)
Doch es reicht nicht aus, sie nur zu haben
Was dir wichtig ist
Musst du schützen und waren
(Musst du schützen und waren)
Die Welt zu ändern liegt in deiner Hand
(In deiner Hand)
Die Welt liegt in deiner Hand
(In deiner Hand)
Den diese Träume hat jedermann
Jeder Junge, jedes Mädchen kann was für sie tun
Den es liegt nur in deiner
Die Welt liegt in deiner Hand
Videos