An arena packed with beauty queens... I'm scared to go in there.

This article is a C. It is missing three or more sections and has little to no imagery. Anything that can be added will be appreciated highly.
This article is about Musa's fairy pet. You may be looking for Icy's pet duck.
Pepe
is
Musa
's
Fairy Pet
, a bear cub.
Appearance
He is a small brown teddy bear with green eyes and round cream ears and belly. He wears a green pendant around his neck and his wings are light lavender.
Personality
Pepe loves to dance, and has an enormous appetite.
Series
Season 4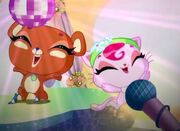 Pepe was originally a plush doll that the Winx were going to throw out on one of their jobs, but became bonded to Musa after Flora brought them to life. He makes various appearances throughout Season 4, generally at the Love & Pet. Pepe also showed up with Kiko and the other pets during Roxy's fight with Gantlos.
Comics
#60: Future Adventures
Coming Soon...
Trivia
Ad blocker interference detected!
Wikia is a free-to-use site that makes money from advertising. We have a modified experience for viewers using ad blockers

Wikia is not accessible if you've made further modifications. Remove the custom ad blocker rule(s) and the page will load as expected.