Wow, did I just say that?

This article is a B. This article is a B, meaning it is missing three or fewer sections, or some images need to be added. Please do what you can to help!
Peg is Bloom's pet horse that she receives from her parents as a gift in "Magical Adventure".
Appearance
She is a white horse with brown eyes and long yellow mane and dark brown hooves. She wears purple muzzle and headcollar, and red saddle and neckband with golden trims.
Once she transformed, she earns creamy bird-like wings with patterns that have yellow edges.
Series
Peg is seen again in "Acheron" and "Winx Forever", in Daphne's wedding, with horse-drawn carriage.
Movies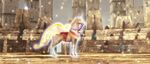 After Bloom meets Sky in Domino, Sky teaches Bloom how to ride Peg.
Peg helped Bloom during the battle in the ship. And at the end of the movie, she transforms into a Winged Unicorn by eating the seedling on Havram.
Magical Abilities
Peg is a skilled horse and is able to run fast. After becoming a unicorn she is able to fly with her wings. It is possible she may be able to control the transformation, as it disappears when the magic pollen is gone and then reappears after magic is restored, just like with the Winx's Believix. 
Trivia
Peg also appears in Winx Club: Magical Adventure an online game on Nickelodeon's website.
In the appearance of 2D animation, she loses her horn.

It is unknown if this is the animation error or not (like Roxy lost her blond hair streaks in season 5 and regained them in season 6).
Ad blocker interference detected!
Wikia is a free-to-use site that makes money from advertising. We have a modified experience for viewers using ad blockers

Wikia is not accessible if you've made further modifications. Remove the custom ad blocker rule(s) and the page will load as expected.