Winx Club Forever

This page is completed. Please do not add any categories, pictures or any edits!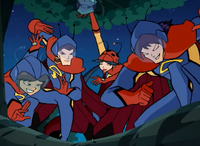 Patchamen
(also known as the
Ninja Hawks
and
Techno-Ninjas
) are a group of do-gooding superheroes.
Members
Ben the Justice Man - The melodramatic leader of the Patchamen and a self-proclaimed mysterious antihero.
Jinpee the Smartest Kid Ever - A young kid who is a self-proclaimed genius.
Junko the Princess of Beauty - The female member of the Patchamen.
Kiu the Mighty One - A cyborg who is able to disassemble his head, torso and limbs into different components.
Bo the Mysterious Antihero - Identical to Ben, he does not really say much.
Zark - The dog.
Series
They appear in "Battle on Planet Eraklyon". They appear to be a rather clueless and easily tricked group of superheroes.
Trivia
Gallery
Ad blocker interference detected!
Wikia is a free-to-use site that makes money from advertising. We have a modified experience for viewers using ad blockers

Wikia is not accessible if you've made further modifications. Remove the custom ad blocker rule(s) and the page will load as expected.