Winx Club Forever

This page is completed. Please do not add any categories, pictures or any edits!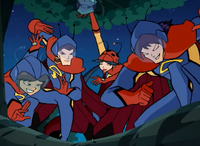 Patchamen
(also known as the
Ninja Hawks
and
Techno-Ninjas
in the Cinélume and
Wrong Righters
in the 4Kids Dub) are a group of do-gooding superheroes.
Members
Ben the Justice Man - The melodramatic leader of the Patchamen and a self-proclaimed mysterious antihero.
Jinpee the Smartest Kid Ever - A young kid who is a self-proclaimed genius.
Junko the Princess of Beauty - The female member of the Patchamen.
Kiu the Mighty One - A cyborg who is able to disassemble his head, torso and limbs into different components.
Bo the Mysterious Antihero - Identical to Ben, he does not really say much.
Zark - The dog.
Series
They appear in "Battle on Planet Eraklyon". They appear to be a rather clueless and easily tricked group of superheroes.
Trivia
The Patchamen seem to be a tribute to the team from Gatchaman (G-Force: Guardians of Space).

In the Cinélume version, they are called the Patchamen, so they directly reference the anime Science Ninja Team Gatchaman.

Their names (Ben, Bo, Junko, Jinpee, and Kiu) are a parody of the Gatchamen names: Ken, Jo, Jun, Jinpei, and Ryu (also known as Ace Goodheart, Dirk Daring, Agatha June, Hootow - replaced with Kiu the robot - and Peewee).

The Patchamen were completely edited out of the Nickelodeon dub of the show.
Gallery
Ad blocker interference detected!
Wikia is a free-to-use site that makes money from advertising. We have a modified experience for viewers using ad blockers

Wikia is not accessible if you've made further modifications. Remove the custom ad blocker rule(s) and the page will load as expected.