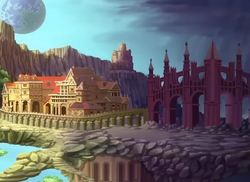 Oppositus
is a planet in the
Magic Dimension
where opposites exist in total harmony.
Overview
Oppositus is a planet in the Magic Dimension where opposites exist in total harmony. Guard are lazy and alert all at once and inhabitants prefer matches that are opposite to themselves.
Series
Seasons
Valtor attacked this planet seeking its magic treasures in his quest for power. After the attack, everything on Oppositus became unbalanced until Valtor was defeated.
Trivia
The name of the "Oppositus" is derived from the Latin word "oppositus", which means opposite.
Realms

Dimensions

Schools

Locations
Ad blocker interference detected!
Wikia is a free-to-use site that makes money from advertising. We have a modified experience for viewers using ad blockers

Wikia is not accessible if you've made further modifications. Remove the custom ad blocker rule(s) and the page will load as expected.