Wow, did I just say that?

This article is a B. This article is a B, meaning it is missing three or fewer sections, or some images need to be added. Please do what you can to help!
Ogron is the leader of the Wizards of the Black Circle.
Appearance
Ogron has wavy, shoulder-length red hair and a red goatee. He has blue eyes. He wears black pants and a black shirt that goes just above his knees.
Personality
Ogron has a personality that fluctuates like the weather. He is rather mean, determined to get what he wants, and the only apparent place he showed compassion was when
Duman
was injured. Despite what he says, he does care about the other Wizards, because to him they are like his brothers and/or friends. When the time calls for it, he is "nice" or "compassionate" to
Roxy
, as seen once in Episode 8, and seen again in Episode 13, however, this is most likely to get the
White Circle
and/or her.
He is very strategic and uses any kind of dark spells to either get Roxy and the White Circle or destroy the Winx. Ogron is also somewhat sadistic, enjoying hurting people and spreading chaos around him.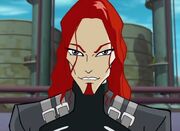 Pre-Series
Ad blocker interference detected!
Wikia is a free-to-use site that makes money from advertising. We have a modified experience for viewers using ad blockers

Wikia is not accessible if you've made further modifications. Remove the custom ad blocker rule(s) and the page will load as expected.