Niobe
Talk

0
1,155pages on
this wiki
An arena packed with beauty queens... I'm scared to go in there.

This article is a C. It is missing three or more sections and has little to no imagery. Anything that can be added will be appreciated highly.
...One of you Winx...

This page needs some pictures. Maybe you can help by uploading some images that relate to this page's topic!

Queen Niobe

Voiced by

Daniela Abruzzese (Original/Italian)
Megan Cavanagh (Nickelodeon)

Origin

Relationship(s)
Queen Niobe is Aisha's mother and the Queen of Andros. She has a lot of purely strong and close motherly love for Aisha. She also made the choice of Aisha marrying Nabu. She asks for Aisha's forgiveness because she made the choice of who Aisha will marry, but she also says it is a lucky guess. Niobe does not appear much. She came to Alfea to ask for forgiveness from Aisha stating that she should not have made a choice for Aisha to marry Nabu, other than that episode she only appears in Andros. Niobe mainly appears in Season 3. but made minor appearances in season 5
Personality Profile
Niobe is kind and well-behaved. She is very brave, loyal, and sometimes very worried. However she is very loving and caring as shown in Season 3.
Physical Appearance
Niobe has tan skin like Flora and grey-blue eyes. She has red hair and light pink lips and brown hair with pale blond stripes.
Niobe wears a blue dress and a sky bandana and aqua colored earings. She also wears a violet skinned necklace with a aqua pearl on it. Niobe has a light tan skin like Flora's.
Seasons
Niobe did not appear in season 1, 2 and 4.
Niobe is shown in this season. First she makes a decision which upsets Aisha for marrying a man called Nabu. Aisha however, disagrees but Niobe tells her that people in Andros makes wedding decisions by their parents.
Later, when the Winx go to Andros to stop Valtor, they see that the Omega Dimension's portal open. Aisha want to go but Niobe is too worried. However for the planet she tells Aisha to go but to be careful.
Then her appearance is at Alfea. She forgives Aisha for deciding who she should marry. But also includes that the man was a lucky guess. Then they have a little talk.
Niobe's appearance in this season plays a crucial role in the relationship between Aisha and Nabu. She initially is for forcing Aisha to marry.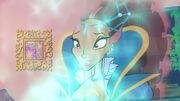 Niobe is seen to be communicating with her daughter about Andros's condition after Tritannus escaped from prison and join the Trix to rule the Magic Dimension. She's later seen again, talking to Aisha at Andros' palace.