Musa and Riven
Talk

0
1,486pages on
this wiki
Musa
and
Riven
 are a couple featured on
Winx Club
. They had the most relationship issues out of all of the couples.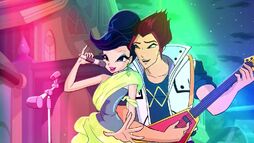 Overview
Coming soon...
Before entering Darkar's Fortress, Musa mocks Riven, telling him that he wasn't all into the mushy stuff, but Riven pulls Musa in a hug, asking her to promise him that she will come back.
During the fight to save Bloom, Musa is about to be struck by Darkar, however Riven blocks the shot, getting injured. Musa, upset, rushes to Riven, kissing him. However, as Bloom used her healing power to heal everyone, Musa is flustered and scoots away from Riven.
Returning to Alfea and celebrating, Musa dances with Riven.
Musa and Riven appears to have made up and are happily together once again. During the first episode, Musa is happy to see Riven.
Their relationship starts going down hill when Riven states to Bloom that seeing Sky and saving him from Diaspro's spell was useless. Upset at his attitude, Musa scolds Riven. They don't talk very much, notably during the crying session among the Winx and Timmy after Tecna fell into the portal to the Omega Dimension.
Musa considers breaking up with Riven after they train to become stunt bikers to save Stella's father. After another argument, Musa gives up. Coming soon...
Mandragora hypnotizes Riven, and turns him into an antagonist, sabotaging the Winx and the Specialists. Entering a trap, the Specialists are alone, except for Musa who stays back. She sacrifices herself to save Sky from Riven, resulting in her getting stabbed. She becomes unconscious and Riven is upset, remembering memories of the both of them, shedding tears. He returns back to normal, and helps fight back. He apologizes to Musa and they share a kiss.
At the start of the season, Musa and Riven are seen happy together, however upon arriving to Gardenia, their relationship becomes rocky, again.
Riven, being easily jealous, disapproves of Musa's actions, sending her in anger. Being encouraged by her friends, Musa shows off her musical talent, angering Riven for all the attention she was receiving.
Jason Queen, a music producer, discovers Musa and her singing ability and offers to make her successful. Taking the deal, Musa is excited but is shortened out by Riven. Showing no support, Musa ends her relationship with Riven, stating that she would rather be with those who do support her.
While fighting against the Wizards of the Black Circle, Riven asks Musa how she was able to tell the difference between him and the copy of him, to which she replies that he likes to fight alone.
Their relationship continues to be tense.
more coming soon
The Winx and the Specialists meet at Eraklyon for an important mission.
Musa and Riven are getting close. They're getting closer and closer until Musa becomes jealous that Riven is hanging out with a blond fairy. In "The Shark's Eye", it is revealed that the blonde fairy only gave guitar lessons to Riven. Then he is proves to Musa how important she is to him by singing a song to her. She eventually joins in and they sing together.
In Episode 5, Musa excitedly tells Riven that she is visiting the Golden Auditorium. Her call interrupts Riven's training and they talk briefly, leaving Musa upset, wondering why she continues to try. Coming soon...
Gallery