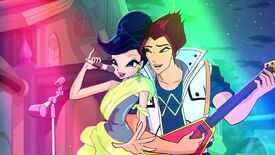 Musa and Riven are a couple featured in Winx Club. They have had the most relationship issues out of all the couples formed by their friends and have experienced the most breakups as a result.
Overview
Musa and Riven first meet in Season 1, where Musa quickly developed a crush on him, but Riven seemed to have wanted nothing to do with her. To make matters worse for Musa, Darcy placed a spell on Riven in the eighth episode and the two date for most of the season. Despite all of that, Musa and Riven are seen as friends in Season 2 and later become a couple by the season finale after Musa kisses him while under the impression that she lost him. Starting in Season 3, their relationship seems to have hit a rocky area. Even though it appears that they do not seem to love each other much anymore (due to their constant arguing), it is revealed to be the opposite later in the season when Riven fights for Musa with Ophir, believing that he was trying to steal her away. However, come Season 4 and Musa and Riven hit another rocky patch when Riven becomes jealous of her new manager, Jason Queen. His jealousy towards Jason ultimately causes Riven to be unsupportive of Musa's blossoming career and the two break up. Despite this though, Riven still made attempts at showing his love for Musa. The two still care very much for each other, which can be seen when Musa flies into a panic when the boys are kidnapped by Diana. Riven even writes a song for her in Season 5. However, midway through Season 6, Musa and Riven break off their relationship seemingly for good, as Musa had been feeling mistreated by Riven and Riven believed that he is incapable in protecting Musa.
Appearances
Songs
As a couple, Musa and Riven have songs sang either by one of them or both:
Gallery
Main article: Musa and Riven/Gallery
Trivia
Musa and Riven are the only main couple out of the others to have gone through a major breakup. Twice, in fact.

They are also the only main couple to break up willingly, as Aisha and Nabu were forced apart due to Nabu's death.
In the comics, Musa and Riven go through two notable breakups.

Momentarily in Issue 55: Temptations as Riven grew more distant from his friends and Musa. It later turned out that he was working undercover with the Magix City Police to apprehend men involved in a string of kidnappings.
Sometime before the events of Issue 79: Conflicts of the Heart, Musa confirms that she and Riven broke up for a reason that remains unexplained. This leads Musa to pursue her crush, Lukas Viker, and the two date for a short time.

Ironically, Musa and Riven do not go through the most breakups in the comic series. That claim goes to Stella and Brandon.

Much like Bloom and Sky, Stella and Brandon and, later, Aisha and Nex, at least one party in the relationship has an ex-lover. In this case, Riven dated Darcy for most of Season 1.
Ad blocker interference detected!
Wikia is a free-to-use site that makes money from advertising. We have a modified experience for viewers using ad blockers

Wikia is not accessible if you've made further modifications. Remove the custom ad blocker rule(s) and the page will load as expected.