Kind of, but we have better style.

This Article is an A! This article has all the sections and images in place, making it complete.
Mirta
is a girl who stood out among the other
Witches
of
Cloud Tower
. She has the ability to produce illusions using her imagination and emotions. She was a witch in most of the
first season
before becoming a
Fairy
.
Overview
She has often been ridiculed by the Trix at Cloud Tower because of her opinion that Witches and Fairies are not very different from each other and that they can be friends. This was proved to be right later in Season 3 and the Second Movie, when Witches and Fairies have become friends even if there was still a rivalry, though a friendly one, between the Witches and the Fairies. This is even seen in Season 3, when the Witches attack Alfea after Valtor turned them into his slaves/minions, Flora wondered why the Witches were attacking because she thought the Witches of Cloud Tower and the Fairies of Alfea were now friends. However, the Witches still sometimes played pranks on the Fairies like in Magical Adventure but not bad ones like before.
Mirta even attempts to help Bloom on one occasion and ends up by being turned into a pumpkin by Icy. At the end of Season One, she transfers to Alfea College, where it is unclear whether she is truly fairy or witch, as she grows wings in Season 3, but tends to revert to dark magic upon occasion like in The Secret of the Lost Kingdom. However, it should be noted that even fairies can use dark magic if they wanted to.
Appearance
Personality
Mirta is a sweet and shy girl who would rather have fairies and witches all get along. Her personality is similar to Flora's, with a good head on her shoulders. At Cloud Tower, Mirta was not fitting in, though she was nice to everyone else there.
Mirta gives friendship a great value and her friendship seems to be contagious because Amaryl seems to be more friendly to the Winx since they know her.
Her closest friends are Lucy, Flora, Amaryl and Kimmy; she does not have a pixie yet but she could bond with Zing or Jolly who both like her. She has grown more cheerful throughout the series as she develops more friendship with the fairies of Alfea. She does not have any love interest.
Even if Mirta (like Flora) is afraid easily, she is also very selfless, as showed in Season 1, when she stood between a hurt Bloom and the Trix; or when she told Flora to not worry about her and go help the others against the nightmare monster; or in Season 3 when she went to Cloud Tower without her roommates or being transformed in order to find out what happened to Lucy.
In one issue of the comic, Mirta is shown to work in Magix as a barber saying that it is in order to make money in case she will not become a fairy, since it was prior of Aisha's joining the Winx because she was not there, it is between the events of seasons one and two.
Series
Seasons
Specials
Movies
Witch/Fairy
Mirta used to be a Witch but she later became a Fairy. It can be supposed that Fairies and Witches are not distinct species, but instead members of the same species who choose to become either Fairies or Witches according to their personalities or for other reasons. Since Mirta was assumed to be doing her first year at Cloud Tower, it is possible that so long someone has not become a full-fledged Witch or Fairy, that person can still switch between Dark or Light magic and become either a Fairy or a Witch.
Fairies and Witches usually join Alfea and Cloud Tower respectively when they are sixteen years old, and Bloom first discovered her powers at this age, so it could be that it is at this age that the magic powers of Fairies and Witches begin to appear. This could explain why Mirta was able to change from being a Witch to a Fairy since her powers had not stabilized themselves.
Magical Abilities
Mirta is the Fairy of Illusions, her powers are best at creating diversions and making others believe in something that is not real. Since she can also make illusions from emotions, her powers could also be empathic/psychic in nature.
Use of Magic
"Soria Veconvalant Emperi Jubula": She lifts her hands and says the incantation, then a concentration of blue magical energy arises from the surface and slowly becomes a purple color, it finally becomes a sort of projection that reveals what her targeted candidate's intentions are. Used against the Trix in season 1 episode 14.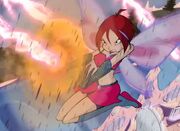 "By the absolute powers of darkness, I command these two...": An incomplete, dark spell spoken in the first movie in which a dark aura does surround her. Mirta was not able to complete it due to Professor Wizgiz's interruption and warning of not using dark magic.
Unnamed shield spell: She used an orange shield during Valtor's attack to Alfea with aid from possessed Witches.
Unnamed summoning spell: Mirta used this to summon a large beast to attack the Trix in season 1 episode 14.
Trivia
On the Winx Club website, you can dress up your avatar with Mirta's civilian outfit.
In the special, Mirta does not have her freckles.
In the films, Mirta's hair appears to be magenta.
Both Mirta and Lithia are voiced by Natalie Lander in the Nickelodeon version.
Her name has Spanish and Greek origin and means "crown of thorns".
According to a 2013 book, Mirta is officially called the Fairy of Illusions.
Mirta's Italian voice actress also voices Lemmy.
In some episodes of the Cinelume dub, she is called Mista for unknown reasons.
Ad blocker interference detected!
Wikia is a free-to-use site that makes money from advertising. We have a modified experience for viewers using ad blockers

Wikia is not accessible if you've made further modifications. Remove the custom ad blocker rule(s) and the page will load as expected.