Winx Club Forever

This page is completed. Please do not add any categories, pictures or any edits!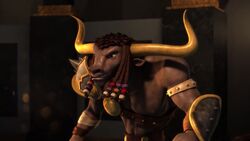 Minotaur
is a legendary creature appears in
Season 6
.
Appearance
The Minotaur is a bipedal bull. It has brown hair which is tied down with cream, red and brown bands of strings. It also has a pair of golden horns. It wears gold and brown armor.
Series
In "Queen for a Day", the Minotaur made its minor appearance.
In "Stella's Big Party", Stella faces Darcy as the evil Ariadne and the Minotaur. When she defeats the Minotaur, Darcy fled away and made Stella lose her way in the Labyrinth, but fails to do so.
Magical Abilities
It is able to deflect any attacks by it horns. It can also jump high too.
Gallery
Ad blocker interference detected!
Wikia is a free-to-use site that makes money from advertising. We have a modified experience for viewers using ad blockers

Wikia is not accessible if you've made further modifications. Remove the custom ad blocker rule(s) and the page will load as expected.