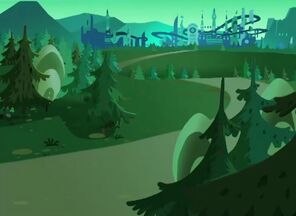 Magix City
is a city found in
Magix
. It is the hometown of
Timmy
's family, which is a prominent family of scientists there. The Magix City is the capital of the
Magic Dimension
, along with the planet.
Overview
Magix City is close to Alfea and is the main city on Magix. It is a large modern city where magic and technology are combined and work together to make the city function.
Magix City is where most of the students of the three schools of Alfea, Cloud Tower, and Red Fountain spend their free time and buses regularly traveling to Magix City are available from the three schools.
Locations
Magix Hall - This is the place where official events such as the Miss Magix contest are held.
Municipal Building - This building looks similar to a Greek Temple and on its facade Daphne is depicted with the other Nymphs of Magix. In some other dubs this building was said to be the Temple of Magix.
Public Square - The Public Square of Magix is in front of the Municipal Building and it is where the annual race of the Day of the Rose is held.
Pubs and Restaurants - There are many restaurants in Magix where the the students of the three schools of magic often spend their free time.
Music Club - The Winx and the Specialists were seen partying in a club in Season 3.
Museum of Magix - The Museum of Magix is where a large number of ancient objects and many powerful artifacts are kept. It is a place with very tight security.
White Horse - a restaurant owned by Greta.
Series
Magix is where the Winx, the Specialists and the Trix spend most of their free time in Season 1. Bloom first met the Trix and was attacked by them there and later the Trix and other Cloud Tower witches attacked Musa in Magix, resulting in a fight where Bloom accidentally revealed to the Trix that she possessed the Dragon Flame. Magix is also where Bloom first saw Daphne, on the facade of a municipal building where Daphne was depicted along with the other Nymphs of Magix.
After the Trix summon the Army of Darkness and try to conquer the whole realm of Magix in the second half of the season, Magix City becomes a deserted place where all the inhabitants were imprisoned in cocoons of dark magic. The city returns to its normal state after the Trix are defeated..
Magix city appears frequently in Season 3 and in the second half of the season the Winx are seen visiting a club in Magix.
Once Valtor attacked the Museum of Magix to steal the Agador Box.
Valtor attacks the city using the Spell of the Elements to send a massive earthquake to destroy Magix City. The city is saved after Valtor is defeated.
Trivia
The name "Magix" comes from the word "magic".
A forest near Magix city named the "Dark Forest" appears in an app game "Bloomix Quest" and on a past version of the Winx Club website.