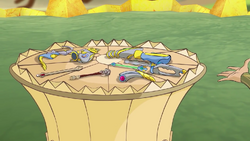 Magical Weapons are weapons introduced in Season 6.
Overview
Originating from Linphea, the magical weapons have the ability to unleash the wild strength of nature, such as wind, earthquakes, solar energy, etc.
Known Weapons
Series
Seasons
Comics
#124: Attack of the Centaurs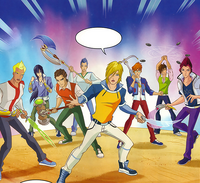 The magical weapons make their debut halfway into Issue 124 when the Specialists and Paladins use them to hold off the Centaur horde to cover the Winx as they try to clear out the fairgrounds to avoid having innocent civilians be harmed by the Centaurs.
Trivia
The magical weapons replace the Specialists' standard weapons like their phantoblades that they had for most of the series.
Gallery