Kind of, but we have better style.

This Article is an A! This article has all the sections and images in place, making it complete.
Lucy
is a student at
Cloud Tower
and
Mirta
's only friend while she was there. She has insect powers, so she can control any species of insect.
Appearance
Personality
Lucy, like most witches, was basically mean and hostile to fairies, but is still friends with
Mirta
, despite her leaving Cloud Tower.
In the episode "Miss Magix ", Lucy wants to compete in the Miss Magix contest, and applies to the Trix for help. They decide to help, disguising her as a fairy, and sabotage the rest of the contestants, except Stella, who avoids the tricks. When Lucy wins, they betray her and transform her back into a witch (in the 4kids version, Bloom counteracts the spell). Stella is then declared Miss Magix.
Series
Seasons
Specials
Movies
Magical Abilities
Having the powers of Volukinesis (insect manipulation), she can control insects and make them grow bigger. It is not clear she is a senior or a freshman, but she was once called "reject" by
Icy
.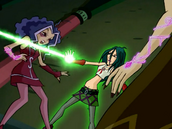 Uses of Magic
Trivia
Lucy is derived from the Latin names Lucia (feminine form) and Lucius (masculine form), meaning Light.
Lucy is visually similar to the Storm Harpies created by Stormy in "The Black Willow's Tears". This is either due to a character error or is an intentional pun fashioned by Stormy at Lucy's expense since Lucy (when hypnotized) was the one who informed Valtor that the Winx were going to Linphea to save Faragonda.
In elementary school, Lucy was quite popular, but her classmates rejected her when they found out she was a witch.
Lucy is shown to be obsessed with the Trix in Season 1.
In Season 2, Lucy says that she respects Griffin and one day she will be strong and proud just like her.
In the 4Kids version, Icy suggests that she is from Outcastus. Whether that is an actual planet or a play on words is unknown.
Lucy's voice actress also plays Zing, Evie, Selina and Miele in the Nickelodeon dub.
Ad blocker interference detected!
Wikia is a free-to-use site that makes money from advertising. We have a modified experience for viewers using ad blockers

Wikia is not accessible if you've made further modifications. Remove the custom ad blocker rule(s) and the page will load as expected.