An arena packed with beauty queens... I'm scared to go in there.

This article is a C. It is missing three or more sections and has little to no imagery. Anything that can be added will be appreciated highly.
Lucilla is the Crocodile of Narcissa. She appears in PopPixie. Her best friend is Billo, the Polecat of Floxy. She is lazy and tetchy, just like Narcissa.
Appearance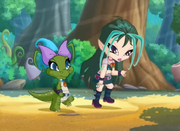 She is a crocodile, nearly the size of Narcissa herself. She has blue eyes and has a large purple bow on her head. It is unknown that the part on her head pointed downwards is her ears. Like her owner, she wears a black bracelet around her hand with white spikes. In addition, Lucilla has yellow spots on her tail.
Ad blocker interference detected!
Wikia is a free-to-use site that makes money from advertising. We have a modified experience for viewers using ad blockers

Wikia is not accessible if you've made further modifications. Remove the custom ad blocker rule(s) and the page will load as expected.