Winx Club Forever

This article has been completed. Please do not add any categories, pictures, or edits!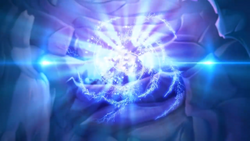 Limbo
is a place that exists outside of time.
Overview
The Limbo is a place that was introduced in Season 7 for the first time. During their last battle against the Trix, Bloom comes up with the idea to lock them in Limbo. By her then stated "outside of time".
Series
Season 7
In "The Power of the Fairy Animals", the Winx use the Stones of Memories to open the portal to Limbo. When the portal opens, the realm itself acts consciously as it immediately starts capturing the Trix sending them to Limbo.
Trivia
Gallery
Ad blocker interference detected!
Wikia is a free-to-use site that makes money from advertising. We have a modified experience for viewers using ad blockers

Wikia is not accessible if you've made further modifications. Remove the custom ad blocker rule(s) and the page will load as expected.