Winx Club Forever

This article has been completed. Please do not add any categories, pictures, or edits!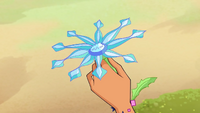 Lenugia
is a kind of magical flower featured in 
Season 6
.
Overview
Lenugia is Eldora's favorite flower. It is extremely rare and grows only in the Forest of Flowers. There is also a legend of this sacred place.
"

Once upon a time, in the Forest of Flowers, Lenugias grew in abundance. These magical flowers protected all of the forest's inhabitants.

"
Appearance
It is a pale blue and white flower with stripes, in the shape of snowflake.
Series
Pre-Series
Eldora gave a Lenugia flower to Lu Wei.
In "Shrine of the Green Dragons", Lu Wei gives the Winx the Lenugia which Eldora gave him.
In "Broken Dreams", a tendril told Flora the name of the Lenugia and the place where it is grown only, in Gardenia.
In "The Fairy Godmother", the Lenugias are seen widely in the Forest of Flowers, they make a path for the Winx to Eldora's house and the Winx use them as hair accessories. Later, Eldora makes Lenugia tea for the Winx, but they do not enjoy it. When the Trix attacked, Eldora invokes the magic of these flowers to help her and the Winx defeat the Trix and the Ectoplasm Specters.
Trivia
Gallery
Ad blocker interference detected!
Wikia is a free-to-use site that makes money from advertising. We have a modified experience for viewers using ad blockers

Wikia is not accessible if you've made further modifications. Remove the custom ad blocker rule(s) and the page will load as expected.